It was one of those rainy days. The drawing-sewing-playdough sort of day, where rain falls endlessly and the wind blows, and the only out-of-doors is to grab more wood for the fire.
On these rare days we watch the world through our picture window ("the breakfast television", as Hannah once fondly called it, as we were looking outside to see what might be happening!)…in this particular week we saw:
a kangaroo sheltering amongst the pines…
a koala grunting madly as he bounded up a tree…
and birds… there are Superb Fairy wrens, and Scarlet Robins, Magpies and Kookaburras, and of all the birds we see it is the kookaburras whose habits are of most interest. There is much speculation about what it is that they are doing, as they fly here and there, congregate on the grass, find food, laugh in raucous cacophony and even take turns on the swing (yes, really!).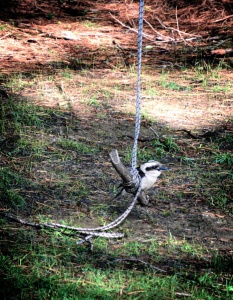 "He was chewing on the rope, thinking it was worms"
"They're having a bird-party of worms on the grass!"
"Sometimes I wish I'd sit  on a tree and hold on and be waggling in the wind…"
I love listening to the children's thoughts about the secret life of kookaburras… seeing their interest captured, their imagination inspired. It is only momentary- then they are back to their drawings and playings again. Yet they are collecting impressions- real,first-hand impressions of their own, not just pictures in books, or on a screen, not just something told them by by somebody else.
The questions come… about nests, and eggs and why birds do what they do, and I tell what I know. And I think about how you can be in a crowd –  a crowd of people, or a crowd of anything- even a crowd of birds, and not really know any one personally. Or you can sit and get to know a bird or two really well…
 Some days I panic when I think of All There Is To Know and how little of it I seem to get around to sharing with my children. Truth is, I probably won't even get around to sharing the half of it.  And I have to remind myself that you could know all the names in the bird book without really knowing any of the birds at all. Or you could get to know even a handful of birds intimately.  And I breathe a sigh of relief, when I remember which knowledge is more valuable.