When my first child was born I was obsessed with teaching her to read and write. I could hardly wait until that chubby little fist could grasp a pencil. I had read a book about teaching babies to read and I just knew this was The Best Thing I Could Do. After all, Reading=Smart. Doesn't it? It did in my world anyway. And if Reading=Smart, then surely, teaching a baby to read = Smart Sooner.
There are only two things I remember from that book. One was the cheerful explanation of How and Why to introduce alphabet flashcards before the kid can even sit up…. and the other was  a disparaging remark about how insulting to the intelligence of the child, how wasteful it was to allow that child to spend their childhood languishing in a sandbox.
Languishing in a Sandbox.
It was those words that stuck in my head, soaking down into the innermost recesses of my being.
Languishing. In. A. Sandbox.
Right then and there, I determined that No Child of Mine was ever going to languish in a sandbox.
So began my journey into the world of 'Early Learning'. My 'baby' knew her alphabet well at two, and could make letter-like marks on paper. She had alphabet stories, alphabet puzzles, and all the while, I held my breath, waiting for that wonderful day when at last my baby would read…
At four years old, she wrote her first word- 'FUM', on a picture of a farm she had drawn, and this Mama had never been prouder! The child was a genius! Gently, yet determinedly I continued to encourage her to read. 
At five, she spent six months in kindergarten. At one point one of the teachers suggested she thought my daughter could read. Yet both at kindergarten and at home, she insisted that she couldn't.
Then one day, out of the blue, she came to me with a book, and said those wonderful words… 
"I can read this book"
She looked up at me, excitedly anticipating my delighted approval. I was both Delighted and Approving. And she read the book to me ( to the background music of the Hallelujah Chorus!). At last, after all my hard work, my "baby" could read.
Fast forward fourteen years, and five children later.
Miriam and Hannah are playing in the bedroom, and Miriam excitedly calls out "Mum, look at this!" She brings me her drawing board, on which she has written 'mat cat sat hat'. "I can write!" she says happily. Hannah brings me out a book, Brian Wildsmith's  'Cat on the Mat' and 'reads' it to me from memory. "I can read!" she says proudly.  Sometimes reading and writing is 'in' at our house. The children have never had one formal, unsolicited "lesson", and yet they see Richard and I reading and writing every day. They are never-ending asking "What does that say?" or "Can you write my name?" or "How do you write Daddy?. They are greatly amused at my reply when they come to me with a string of letters they have written and ask me what it says. They love the 'ABC song' and sing it with gusto. They even became obsessed with playing schools for awhile when  Mary and Laura first went to school when they lived On The Banks of Plum Creek. Some days Miriam wants to copy out whole poems or write letters to friends. And other days writing is forgotten, and block cities, headstands, tree climbing and princess dances take its place. And languishing in sandboxes of course. (or rather in dirt here at Wildflowers. Sadly, we have no sandbox!)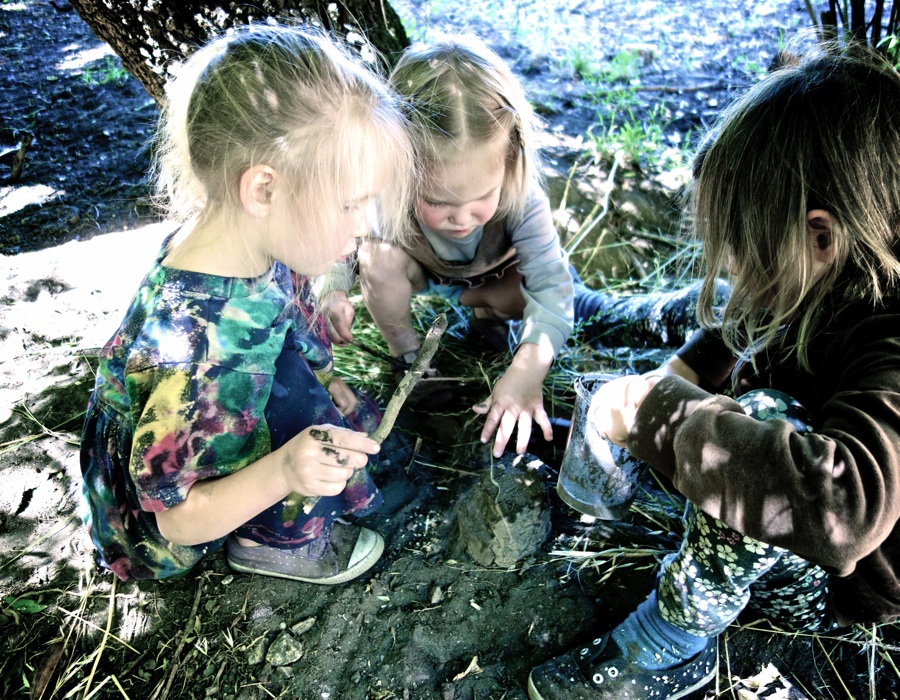 In fact, a great deal of the time the Little Ones here can be found 'languishing' in sandboxes… or dirt piles… up trees… on bicycles or tricycles… or lying in the grass… or building forts…or Making Mudpies, or Something out of Stuff… or just plain old Doing Nothing…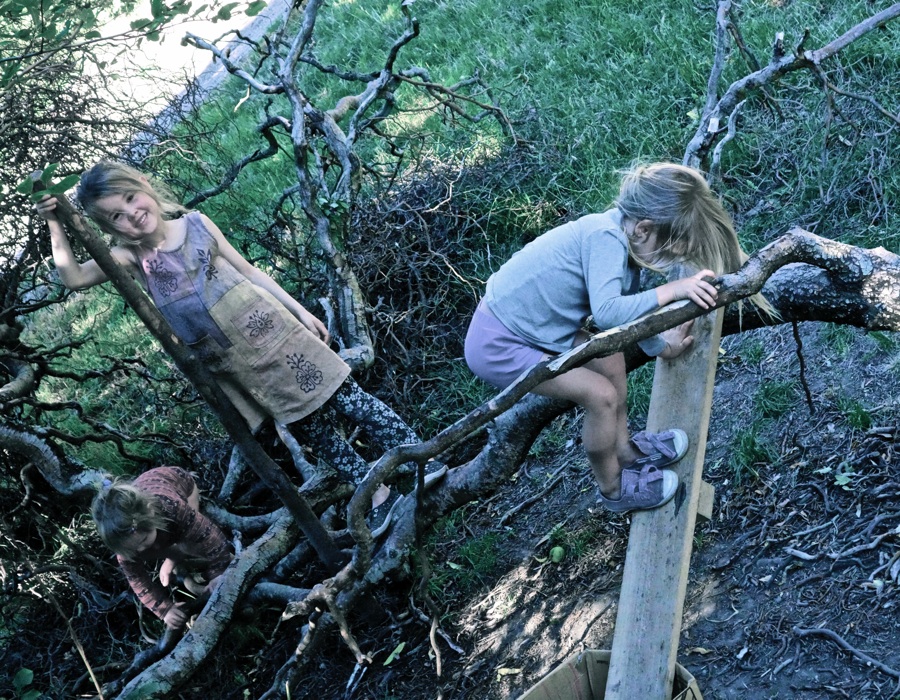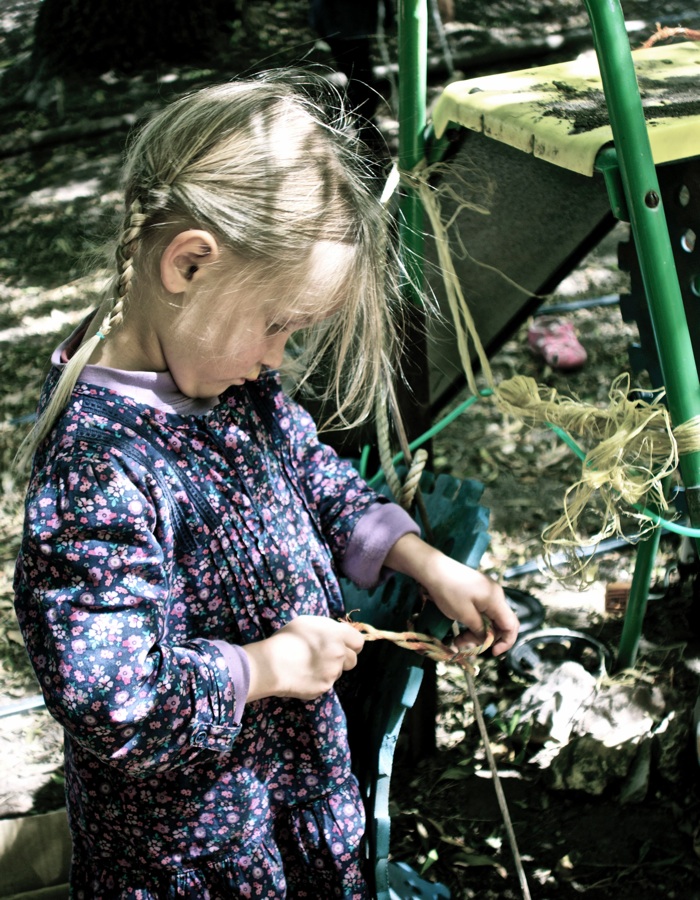 If there is something I have learned somewhere in all these years since my first little girl proudly read me that first book, it is to embrace all the Busy Activity of my Littles with Approval and Delight… to cheer just as loudly for the brilliant headstand as I would cheer for the Perfect Letter 'A'.