When I went outside this morning to do my usual rounds of watering and tending to the animals I was greeted by Bandit our cow, she was much more vocal than usual.  I have been meaning to move the electric fencing to a new bit of pasture but with one thing and another I have not yet got round to it and the grass where she is is a bit thin on the ground, so to speak.  Today was no more convenient than the previous days for moving fencing, the most pressing job is getting our vegetable seedlings into the ground but that wouldn't mean anything to Bandit as  her mind was focussed entirely on her need of something better to eat than what was currently available to her in her paddock.  I do have some hay up in a shed but I am hoping to hang on to that until summer has set in and the grass is dried off and sparse.
So I was faced with a bit of a conundrum.  
Then I thought of a solution, actually more than a solution for this problem but also a solution for another problem that I had brought upon myself a few days earlier.
I had gone to the fodder store to buy a 20kg bag of organic wheat for the chooks.  After I had paid for it the guy asked if he could take it out to the car for me, 'thats ok' said I 'I'll get it, I need the exercise'.  I went to the shelf and threw the sack onto my shoulder walked to the car and threw it in the boot.  When I got home I tore the sack open and went to tip it into the trunk where I keep grain.  Hold on a minute that's not wheat, its pellets of some sort.  Look at the bag, 'ORGANIC STOCK FEED'???!!!  Hmmm, I picked up the wrong sack.
But wait! The cow is hungry, no grass in the paddock.  Stock feed in the sack = end of hunger for the cow.  I tipped some into a feeding tray and gave it to the cow.  It sniffed it, licked it and left it untouched, ungrateful cow.
Just then, drifting into my problem solving thoughts, came the sound of a tractor close by.  Our neighbour had a contractor in slashing the long grass in his paddock.  Its that time of year in South Australia when everyone, quite rightly, gets concerned about the risk of bush fires.  A hot dry summer is predicted and I suppose my neighbours were being diligent and getting their bushfire action plan into place early.  It also became the solution to my hungry cow problem.
I got the wheelbarrow and a rake and headed over to my neighbours place and started to rake up the freshly mown grass.  I got a healthy load on board the barrow and carted it to the very appreciative cow.  Free fodder.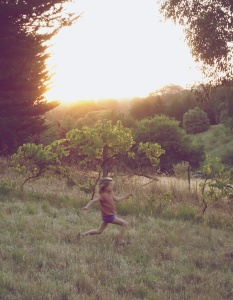 In the late evening I went over again to get another wheelbarrow load for Bandits supper.  As I pushed the wheelbarrow along Miriam, Hannah and Esther ran after me shouting 'can we come', 'wait daddy wait, wait for us'.   I raked up big piles of mown grass and they grabbed armfuls of and put it into the barrow.  Their hair and clothes were covered in grass and hay.  Every now and again they would race off to the top of a nearby rise and charge down the slope yelling and screaming with delight.  With the barrow full we headed for home, the three girls sitting  atop the pile of grass.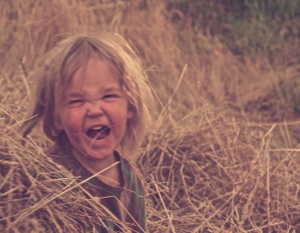 As I pushed them home I took in the beautiful smell of freshly mown grass saturating the cool evening air that had settled into the valley.  The sweet odour mixed with their joyous laughter caused me to dreamily capture a similar time in my own childhood, nothing specific, just a haunting sense of remembering something pleasant and comforting.  For a few moments I was in heaven just as they seemed to be.
I'll move the fencing another day.