If you come to our place, it will probably be the first thing you notice.  At times we have hoped it wouldn't be. Sometimes we even insist that it be moved away from the path leading to the door, and tidied up a bit when company is coming.  Around here it's affectionately known as 'Shanty Town', and it belongs to our children.
This is their own place, the place, where in the words of Charlotte Mason "The elders must neither meddle nor make". *  Often we are invited there, to music concerts, tea parties and exhibitions of various kinds.  It is the focal point of their makings and doings, and they come and go from it throughout the day, sometimes together, sometimes alone, always with great industry, concentration and enthusiasm.
To us it looks like a mess.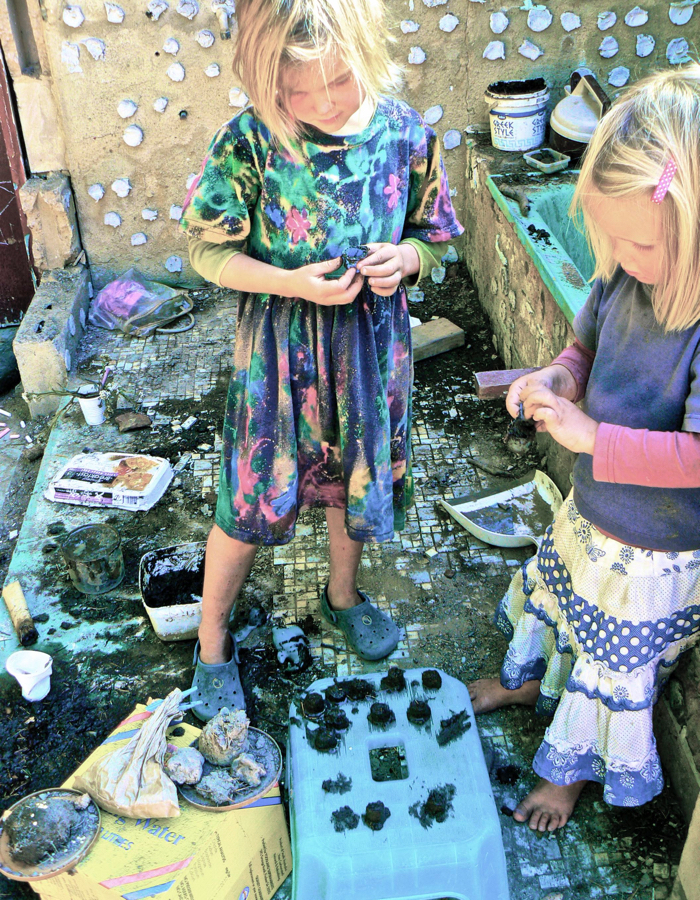 To see it as it really is, we have to clean away the smears of grown-up-ness from our eyes.  
Our children are alchemists, taking the base metal of the everyday flotsam and jetsam, and creating gold.
This dawned on me one day.  I had accepted an invitation to a tea party.  I took my seat amidst what I considered the usual rubble – mud, sticks, flower heads and leaves, clothes pegs, baling twine, broken or rejected dishes, purloined spoons,  flower pots, and enough plastic debris to make a natural-living purist weep.
I politely accepted various concoctions, 'sipping' and 'nibbling' on cue, and wondering to myself at the time and effort gone into preparing, ….well, mud.  And that's when I saw it.  The animated little person in front of me carefully explaining the ingredients of each lovingly created dish,  had transformed these ordinary, everyday things into something else altogether.  It was her time and effort, her love and interest and creative endeavour that gave these things their value.  What I held in my hands was not a cup of mud with leaves and twigs poking out of it, but the end product of the creative vision of a living human soul.  It was a labour of love born out of inspiration, out of the very human drive to create.
That the end product appeared to be nothing more than a cup of mud was of no consequence. In reality it was so much more…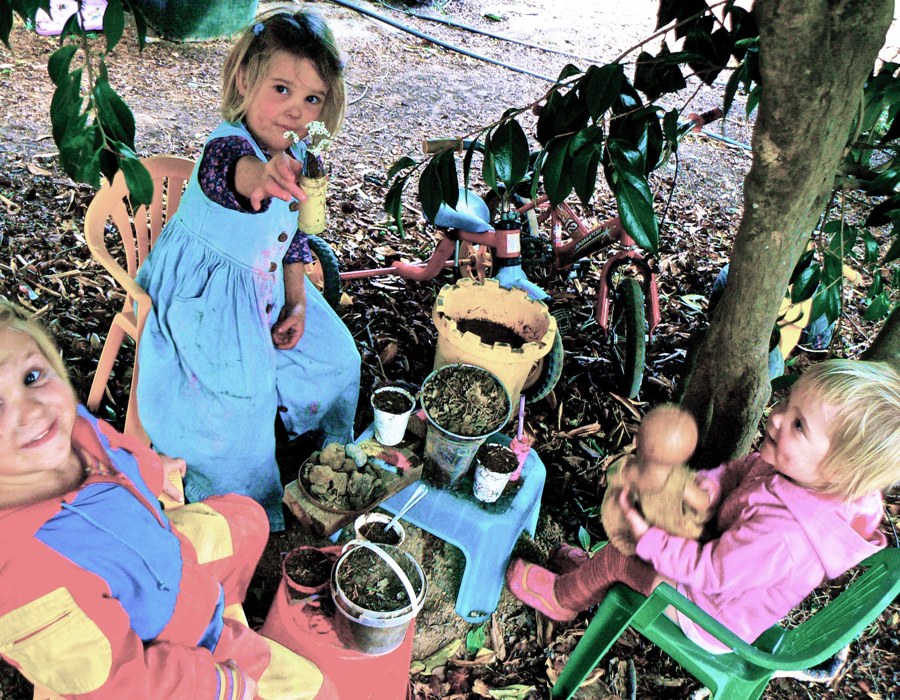 It was some time ago that I began this post. The children are getting older now, and a little more adventurous. The games we once tripped over just outside the back door have all but moved away up to the edge of the forest. Someday they will be gone for good. And the little children who made them will be big children, making other things. And I will not have this time again. So here's to another mud ice-cream in a pinecone, another 'chocolate' cake, another cup of assorted-leaf tea; here's to another pile of dirty washing, and to all these dusty feet and faces there are to wash clean at day's end…
Here's to the wonder of childhood alchemy.
* "Boys and girls must have time to invent episodes, carry on adventures, live heroic lives, lay sieges and carry forts, even if the fortresses be an old armchair; and in these affairs the elders must neither meddle nor make." Charlotte Mason