It was daybreak. I lay in bed, eyes closed, listening to the plaintive sound of the yellow tailed black cockatoos as they soared above the pines, and the chatter of parrots in the trees near the house.  
In the bed beside ours, three year old Esther stirred, and suddenly exclaimed  'Look mum! A pwitty pawwot up in da twee!"
I opened my eyes in amazed delight.
Nine words! A sentence of nine words! The longest sentence I had heard our precious daughter speak yet!
You see, Esther is deaf, and until she was two and a half years old, we were not aware of it. Only nine months ago she lived in a completely different world… a world of seeing and feeling so much yet not having the words to ask us or to tell us about it. Nine months ago she was only barely able to communicate basic needs- hunger, thirst- and her anger and frustration. 
 But now… everything has changed.
Somehow that excitement we experienced as all our children have learned to speak has taken on an even greater significance this time round, as Esther has been transformed before our eyes by the gift of hearing. Her spoken language has blossomed now. Finally we can understand her- and she has begun to understand us. Esther, who seemed so unreachable, the seemingly indifferent child who once pushed me away, comes now with arms outstretched to be held. Seeing her confident, unique personality emerge has been a joy. Being the ones entrusted with the task of helping her learn to listen and to speak, of seeing her struggle and succeed, learn and grow, has been a remarkable journey.
Baby Eva is also deaf.
 Sometimes when they become aware of this, people aren't sure what to say. I feel for them as they fumble words- how often have I been that person when confronted with human frailty in its many forms. 
Yet the view from here is more like this…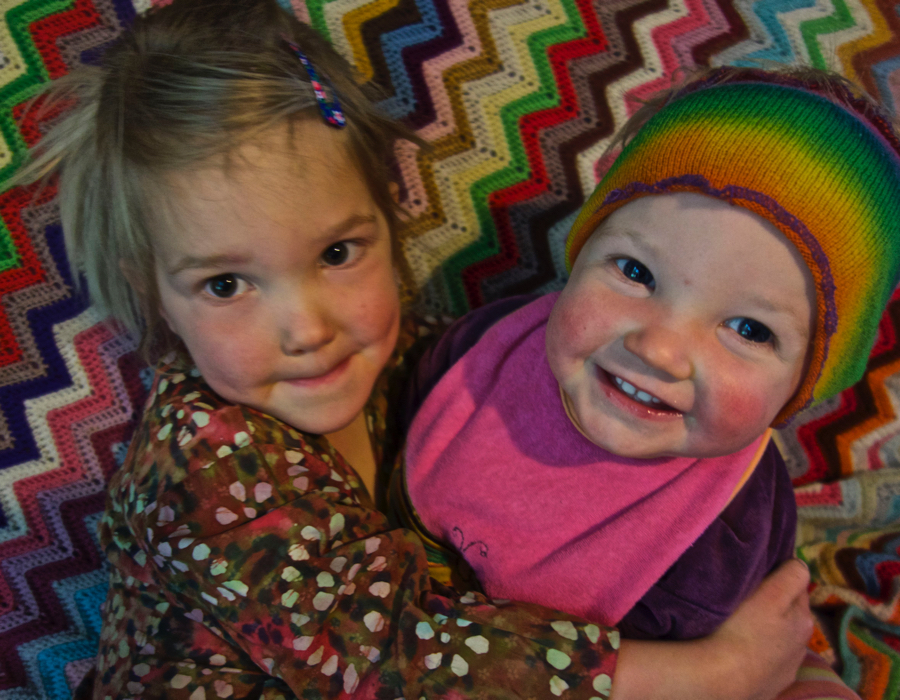 Twice the challenge? 
Yes, but twice the blessing… twice the incredible gift of watching our little girl's lives transformed by the amazing technology and therapy available to us. How can you not wake up each morning thankful when you know that had you been born in a different time, or a different place, these things would not have been a possibility?
And the gift of deafness itself… once the early days of shock and grief had passed, we were able to see and embrace that our children are who they are, and will be who they will be in part because they are deaf. And it can either be to them a strength or a stumbling place.
Esther's independent determination and physical competence, her manual dexterity, artistic talent and attention to visual detail no doubt have their roots in the complex process of sensory compensation which has been going on since her birth. These traits are hers to keep, and now she is blessed with hearing as well. All this has opened us up to a fascinating new world we knew nothing about, and enriched our lives in a way we could never have imagined.
 We are looking forward to being there with our girls as they walk the road God has given them to walk. I know there will be difficult days. Don't we all face obstacles and difficulties? It's what we do with lifes challenges that counts. 
Watching our daughters learn and grow inspires us. I don't think their deafness is a gift we would have chosen if the choice had been given to us- so I am glad we didn't have that choice. If we had, think what we would have missed.