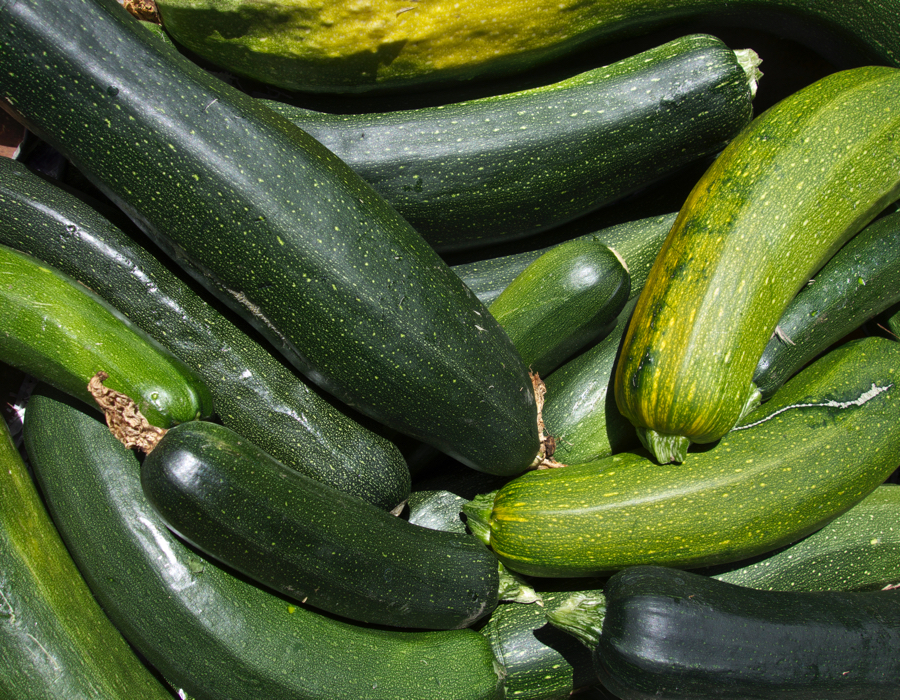 If only everything in the garden was as giving as the humble zucchini plant!
Perhaps you find yourself where we are at present… tripping over ourselves trying to keep up with the zucchinis! Every day or so you are out there picking vigilantly, and yet some still seem to evade your notice, and lifting a leaf, yet another enormous zeppelin greets you! What to do with it??!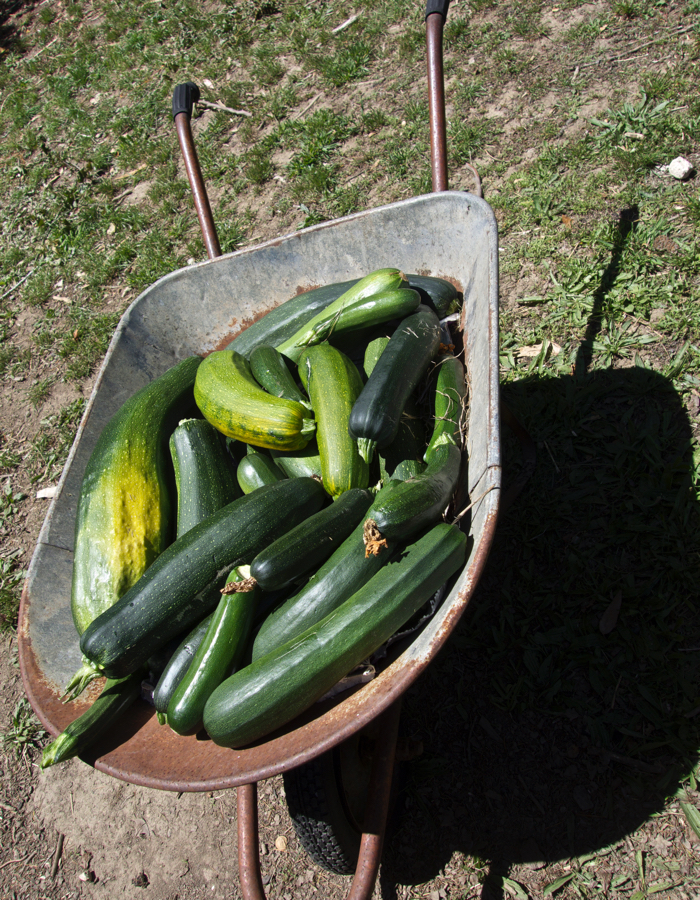 If it has not overgrown to the point of being woody (sounds hollow if you knock on it) we make zucchini bake and corn fritters (shh! my children don't know they have zucchini in them!).
Zucchini Bake
This is a variation on the favourite summertime meal my mum used to make (and her mum before her, and so on probably for as long as people have grown zucchini- which, incidentally, was in former times known as marrow once it attained a certain (unspecified) size. I have never seen marrows in shops anywhere- people seem to prefer their zucchini to remain a polite and manageable size- therefore you will need to source one from a backyard zucchini grower, or sometimes a farmers market, where oddly shaped and sized vegetables are rightly celebrated!) 
You will need:
-A large zucchini (will serve 4-6 people depending on how much they eat of course, and whether you make an enormous salad to go with it!)
-tomatoes
-tomato paste
-cooked rice
-fresh and/or dried herbs
-onions of some sort
-probably garlic (and, depending how you feel about it, probably LOTS!)
-cheese
-other optional stuff… tuna or savoury mince or whatever you think would make a super zucchini bake
Take your large zucchini and slice it in half lengthways, scraping out the middle until you have two 'boats'… or four, if you like individual serves of a smaller size. (I find it helps to make criss-cross cuts with a sharp knife and then scrape the flesh out with a spoon.)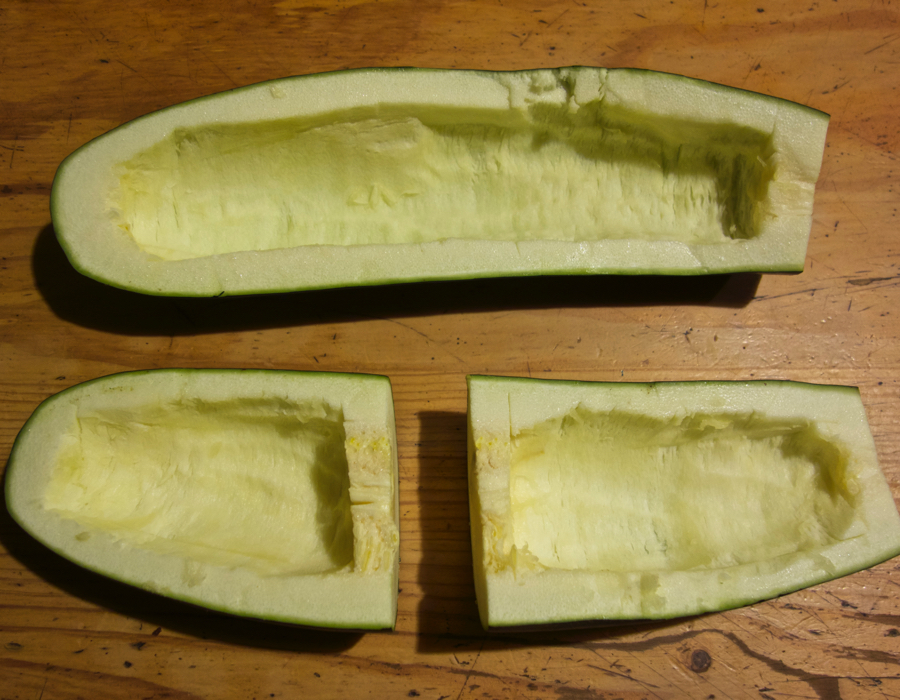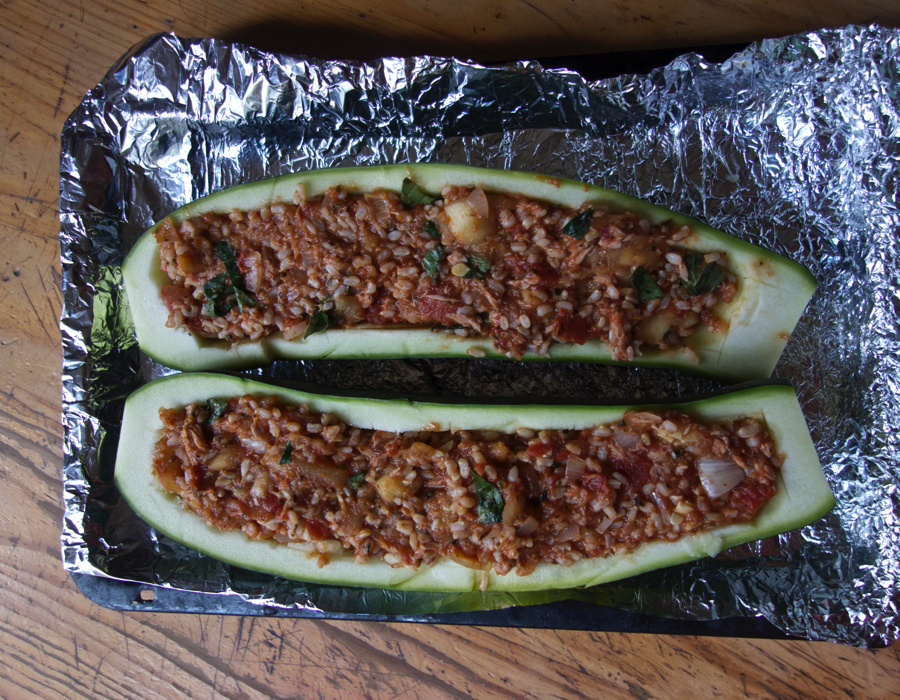 Fry up these insides with onions of any sort, adding herbs, garlic and chopped tomatoes as you go. 
When you are almost done, mix in some tomato paste, loads of fresh basil if you have it, and cooked rice. We like to put a tin of tuna in as well. Spoon this delicious filling back into your zucchini boats, sprinkle grated cheese and Italian mixed herbs on top, and bake about half an hour, or until softish in a moderate oven. There will likely be a substantial amount of the stuffing left over, which is lovely cold or reheated and topped with grated cheese. The zucchini bake itself is also yummy cold, if any is left over… Of course, this is just our version… the possibilities are endless… you could use a savoury mince instead of tuna, or go for a curry flavour instead of a tomatoey one…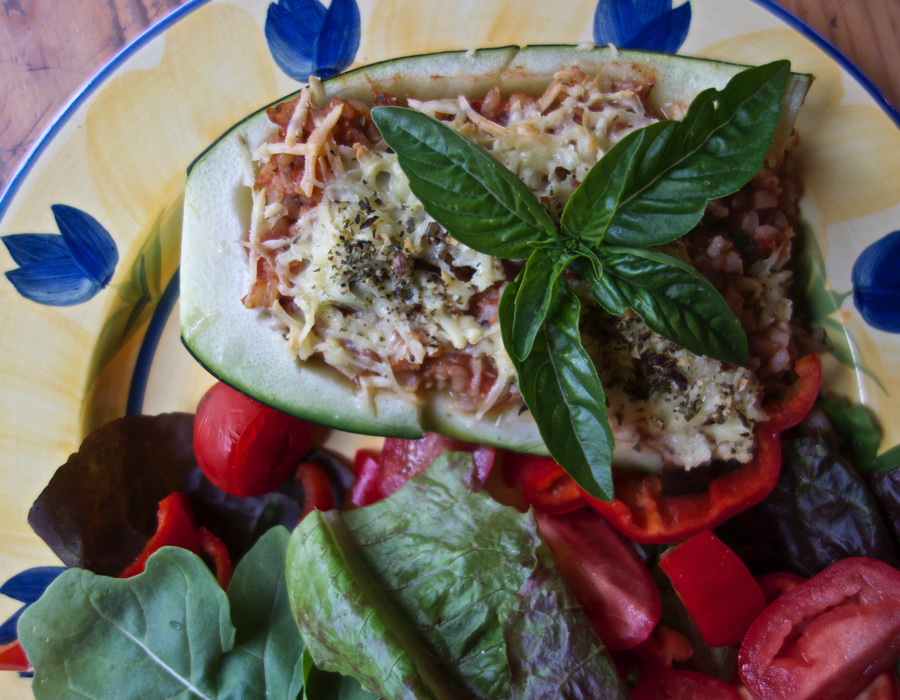 Corn Fritters
I don't actually follow a recipe for this one, so your best bet would be to look up a corn fritter recipe on the back of a tin of corn or in a recipe book or on the internet or ask your grandma…and just add zucchini to it, and enough extra flour to offset the wetness of zucchini. 
If you choose to follow my slightly haphazard instructions, I will feel most honoured and hope your trust in me is not misplaced! 
You will need:
-some zucchini 
-eggs
-plain or self raising flour of any sort you like- buckwheat and chickpea are good gluten free alternatives- (but try not to blame me if you use coconut flour and the fritters fall apart!)
-mixed fresh garden herbs and greens- all the ones children tend not to eat unless disguised as something else! (I started out with just a little greenery, and worked up to the present ratio as my children didn't appear to notice or mind!-  it would seem that as long as it is Salty Enough, Cheesy Enough, and Fried, it is worthy to be consumed!)
-grated cheese
-stock powder 
-milk
-tinned or frozen sweetcorn
I crack about 6 or 8 eggs into a bowl, chop up about one medium zucchini, a big fistful of silver beet, spring onion and herbs, a generous dash of milk, and a teaspoon or so of stock powder. I blend this to a puree, and add enough flour to make a batter, and as much cheese as I think I can spare (LOTS!)…  Don't forget to then add the corn (without which these could not really be called corn fritters!) I drop generous spoonfuls of the batter into a frypan and fry in coconut oil, turning regularly until the fritters are golden brown (well, golden greeny-brown really!) If the batter is too thick/thin, observe The Pancake Rule (as passed on to me by my mum!):  If the batter is too thick, add more milk. If the batter is too thin, add more flour. (Of course if you find the batter is then too thick or thin again, observe The Pancake Rule. Again. Try to get it right before you find yourself with way more batter than you originally intended to have.) 
 I serve the fritters with sour cream, more grated cheese, and a garnish of spring onion. And always eat way more than I should. Yum!
Zucchini, carrot, beetroot and ginger juice is also delicious (about two parts zucchini to one part each carrot and beetroot, and a generous piece of ginger root to taste.)
But what about when you have consumed all the zucchini you can and there are still zucchinis??!
You could leave them on your neighbours doorsteps, spreading the joy of homegrown produce abroad!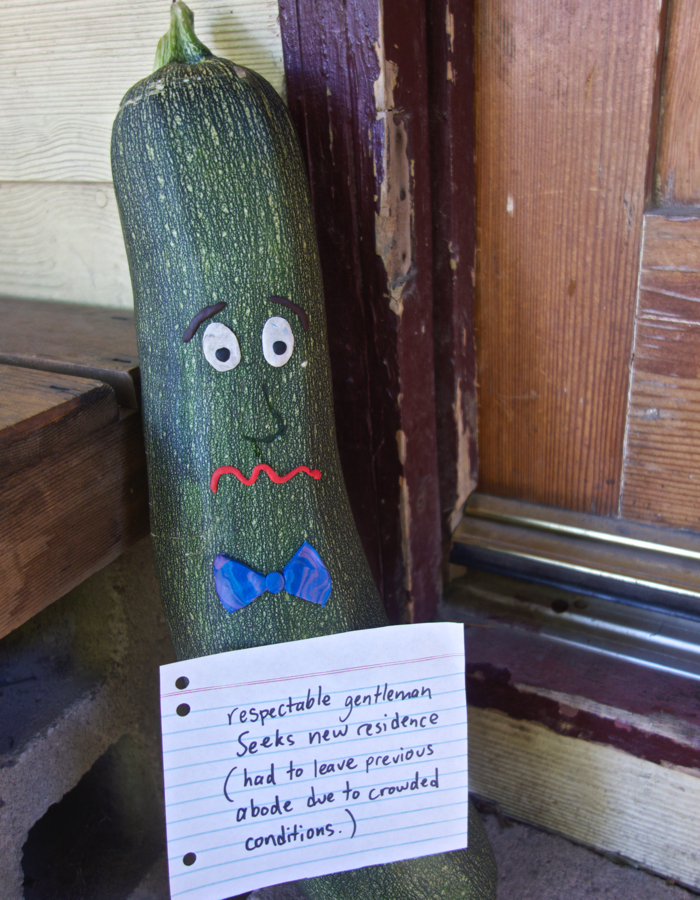 What if you have a superabundance of dreadfully overgrown zucchinis, too big to eat anymore?
Well, you could…
Cut them into rings and feed them to your chooks.
Carve your names into them (you can even do this while the zucchini is still growing, and watch your name grow with it!)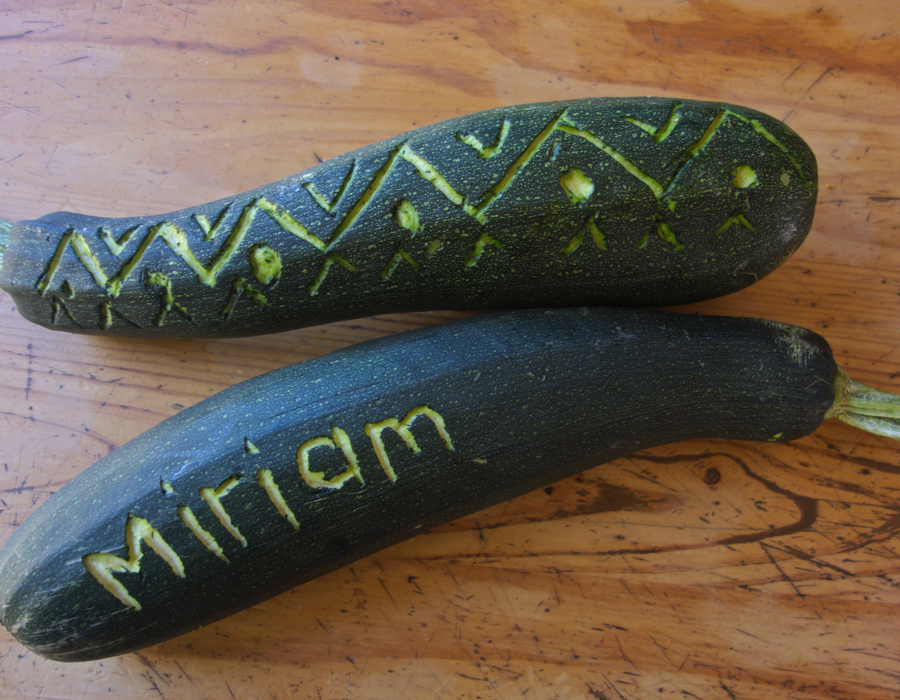 Decorate them with beautiful patterns and put them in the centre of your table!
Make Easter Island statues for your kitchen…or use them as paperweights… or… whatever else you can think of…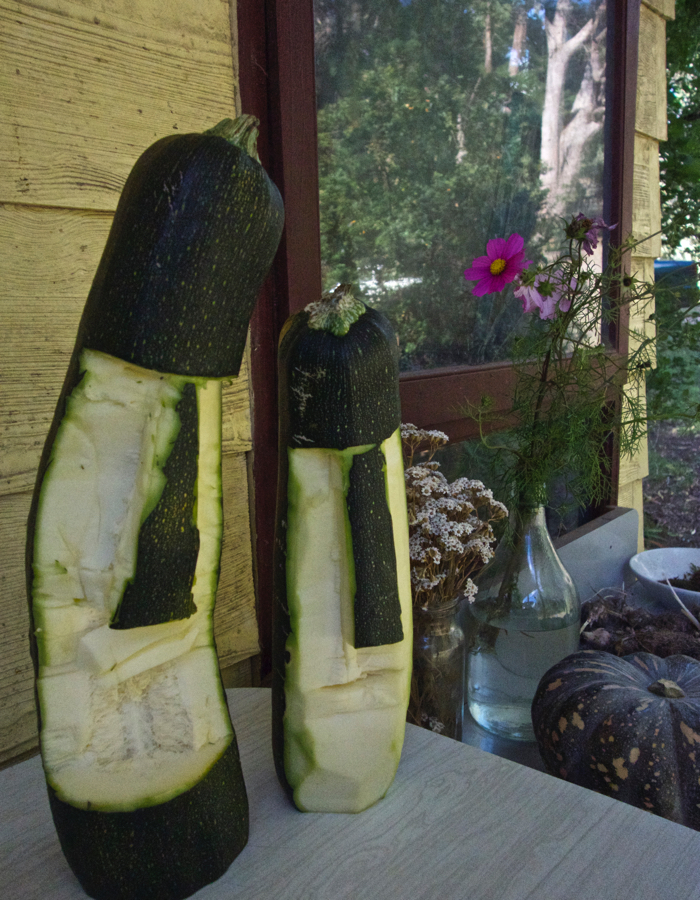 What do you do with your abundance of zucchini?