An Srath Bán is the Gaelic name for the town of Strabane which is in the County of Tyrone in Northern Ireland.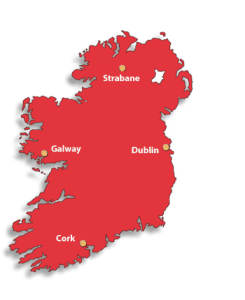 Not many people have heard of Strabane and fewer would have been there.  It doesn't really figure on the tourist trail when people visit Ireland and when it has made the press it is often for all the wrong reasons. It has suffered much, socially and economically, during recent decades.
So, on this St Patricks day I thought I would give Strabane a plug.
If I were to live anywhere else in the world other than where I live now I would most likely choose to live in, or in the immediate environs of, Strabane.  I have been a regular visitor there from my early childhood and right throughout my adult years.  I lived and worked there for three years in the late 1990's and I will be heading back again this year in August for another visit.
I am not sure that there would be many people living in Strabane that would understand why I would want to visit let alone live there.  But, maybe when you are in the midst of difficult or distressing times you are distracted from the beauty of a place and fail to see the beauty in a people.
I was born in Strabane and, even though we moved to England when I was a child, my mother never really settled and she made us ever aware of our Irish heritage not least by transporting us back to Strabane each summer holidays.  None of us children complained about that, we loved to see our cousins, our grandparents and our uncles and aunts who were kind to us, good fun and in many ways were, to us at least, larger than life.  Most of the uncles and aunts have passed away now, but they still figure greatly in my childhood and youthful memories.  As do places.  
Our summer holidays allowed us the freedom to explore the countryside, the glen and the rivers, the fields and the laneways.   I still make it my business when I return there to visit these places that conjure up memories and to absorb their beauty.
My spell of working in Strabane afforded the opportunity of making friends that I might otherwise not have made.  A few of them I hold very dear and the friendships have endured both time and distance, they add to my connection with the area.
For me, Strabane is a significant place, the origin of many memories, distant and recent, and the source of many stories worth the telling.