Bandit was the second of our two cows.  Both were part of the 'instant farm' that I set up when we first arrived at Wildflowers.  Being no farmer I did not realise that 2 month old cows get really big after a while.  Even when they are two months old they have a lot of strength.  Bandit earned her name when she ran away the day I opened the back of the trailer at her new home.  She disappeared over the hill bellowing as she went.  The neighbours corralled her but she escaped and came  back over the hill, still bellowing, to be with her sister.  I quickly built a yard out of pallets twitched together with wire.  I put her sister in there and waited for Bandit to go in.  The whole operation went on for almost twenty four hours.  Finally Bandit was caught.
We butchered her sister at 14 months, shot, strung up in a tree with a block and tackle at night under spotlights (November, the weather was getting warmer, too many flies during the day).  Three blokes going at it for several hours.  We hung the quarters for four days in the rainwater tank stand.  Then a butcher friend came and helped cut it up into the correct pieces, we bagged it and put it in the freezer, again several hours late at night.  An interesting and worthwhile experience but, 'hard yakka' as they say!
With summer on the way and the grass turning brown, feed expensive and the freezer empty of meat it was time for Bandit to go.  New baby, no time, cow that was 27 months  old and looking very big, weather warming up again, what to do??  Call Gary Gum, he has the right idea, 'We kill it, You grill it'.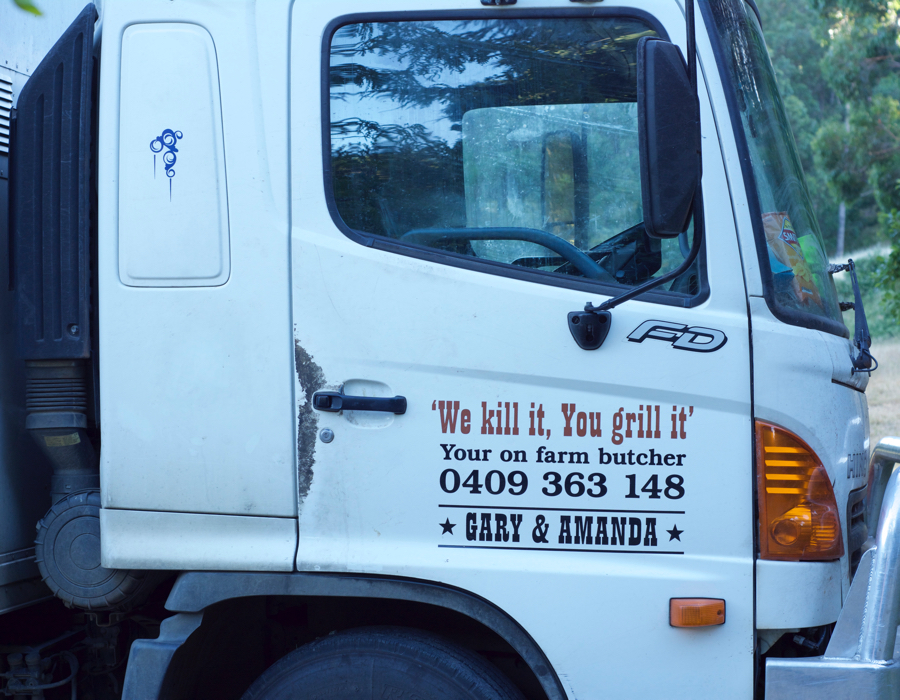 I was impressed by the efficiency of this guy and his crew…. a couple of hours and the carcas is quartered and in the mobile coolroom.  A week later he's back,  by lunchtime our freezers are chock a block full of tray packed and labelled meat.  It wasn't for free but it was a better price than the butchers or the supermarket and the children certainly know where their meat comes from!