1982….Utopia Station, 300 kilometres north east of Alice Springs.
A typical Saturday morning.  Sitting in the humpy (which was perched on the banks of the usually dry Sandover River) drinking coffee or tea, finishing up breakfast….and waiting.
Once a week the mail plane would come from Alice, laden with a sack of letters and parcels for the Urapuntja Aboriginal Corporation, the Aboriginal people who lived on and owned Utopia Station and the non-Aboriginal workers who assisted them in establishing their own homelands.
The throbbing of the plane engine could be heard in the distance, a sense of expectation (that was already there waiting in the wings) sprung to life…..the pilot would announce his arrival with a low circle of the humpy then land at the dirt airstrip about a kilometre away.
One or more of us would jump in the Landcruiser and race out to the airstrip full of hope that there would be 'a letter from home'.
I left the United Kingdom in November 1980 to  move to Australia.  Whilst I had escaped the pedestrian life of England and was living an adventurous life in Central Australia I nonetheless missed my parents and my siblings…..Each week I yearned for a letter with the tell-tale blue and white air mail sticker on it.
I would read and re-read those letters until there came a point in time where I would feel ready to respond. Then,
…I would sit down one evening next to the glow of a gas lantern, with the crickets harping on in the otherwise still and quiet night,  and write a letter home.  A letter from remote Central Australia to my folks in the 'hard to find time to be alone' United Kingdom.
I have kept all those letters I received, and thankfully my parents kept the letters I wrote to them.  They are a precious keepsake and a glimpse into a way of living that is not really possible any more and one that I was privileged to experience.
Letters are a rarity these days-  the receiving or the writing of them.
I have recently taken to writing to my son and his family.  They live in Somerset in the UK. 
When I sit down to pen a letter, I am transported into a world that is both Wildflowers and Oakhill.  There is no distance between me and them….I can move seamlessly between the two places….my pen is an instrument in the hands of my mind.
It's as if they are with me at Wildflowers and I am with them in their little house, I am talking to them about what has happened with me and they are answering my questions about themselves….I am with them in spirit, if not in body.
I pop the letter into the red post box.  But that is not the end of the the joys of letter writing.
For the next week or so I can warm myself at the thoughts of that letter winging half way round the world, laden down with all my news.  I can picture my sons' house in Oakhill, the cold wet winter weather, the dark evenings.  His workday over, I see him hurrying to the door, keen to get out of the wind and rain and into the warm house.  There he finds Collette and Rory waiting for him, the smell of a warm meal being prepared.  He shakes off his wet jacket in the porch, closes the door and walks to warm his back by the fire. Collette says to him, "There's a letter from your dad".
I still remember the feeling when I opened the mailbag thirty odd years ago and said to myself, 'there's a letter from my dad'!
Such thoughts help motivate me to write more.
We are impoverished by the demise of letter writing.  Modern communication is quick and convenient but it is often niggardly, spartan in feeling, shallow in reflection and lean on substance. Messages, emails, and the equivalent, demand a response soon, and with predictive text, dictation and copy and paste we can more often than not oblige.
Not so the letter writer and receiver.  For such there is time to wait, to receive and to ponder. A response comes only when a letter has been dug over and sifted, only then can a reply be deliberated upon and crafted.  And so the cycle of giving and receiving creates an intimate view into the ordinary lives of ordinary people.  I fear that such vistas are soon to be lost forever- even  emails and SMS's that might contain a fleeting glimpse into the heart of a sender are consigned to the trash bin or languish on the hard drive of some outdated computer assigned to landfill.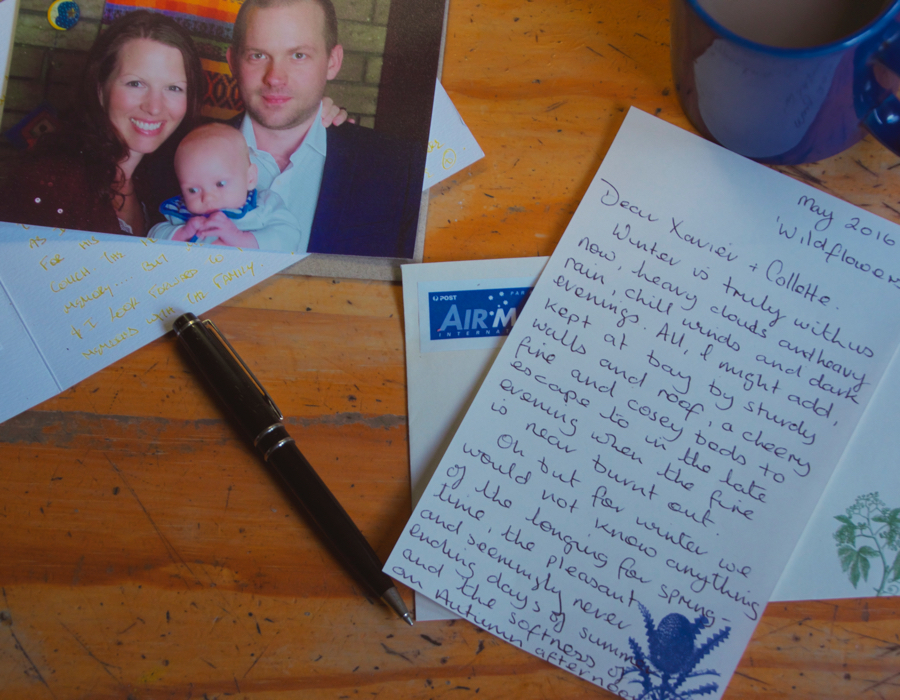 I was clearing out one of the rooms at Wildflowers when we first arrived here three years ago.
Among the many papers that I was putting into a suitcase for safe keeping for the owner (whom I count as a friend) I found a single page out of a letter he had written 25 years earlier to his daughter who lives in Germany.  One line stands out on that single page from that lost letter….he wrote to his daughter,
"I wait for your news like a sponge waiting to soak up water".
And on that little note I feel I need not write any more about the importance of letter writing.