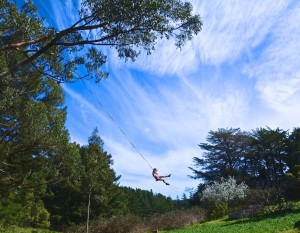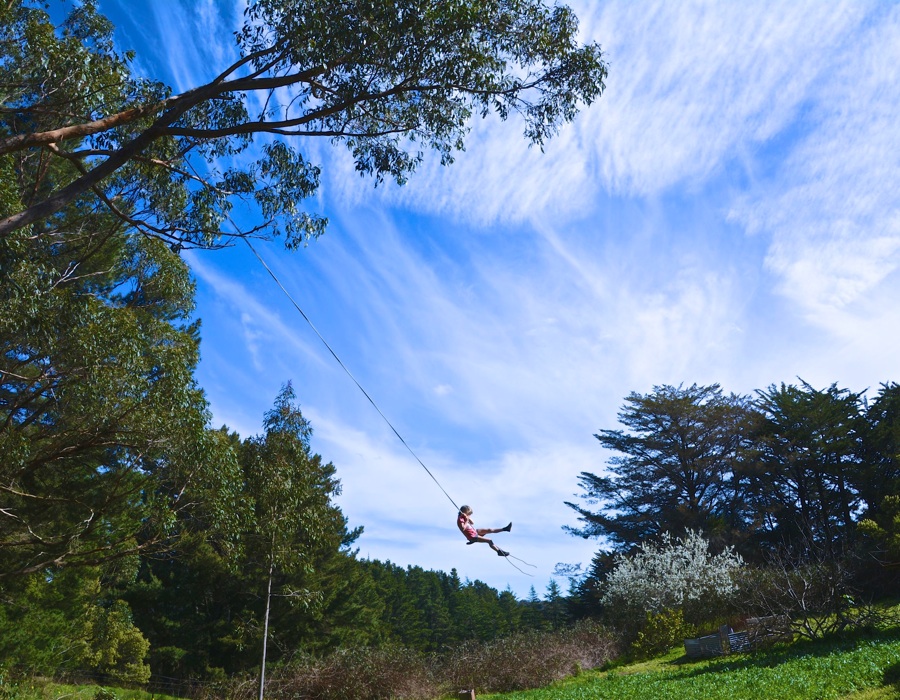 Sometimes a true thing remains unknown until somebody says it. And then, like some sort of mysterious incantation,  the very words bring the realisation to life within you. 
You have put down roots here, he said that day. 
He said it approvingly, as he stood out beside the fig tree and looked over our flower garden. It was something that had been lacking here. There was no shortage of wildness, but a noticeable lack of domesticated flora. So we had turned the ground where once the rubbish heap lay, with its rubble and old pieces of broken furniture, and the half buried piano wires from the shell of the grand piano. We had turned the ground and planted small, hopeful seedlings potted by an elderly lady from down the road. We had watched them take root and grow and now they were blooming. 
This place is made for children.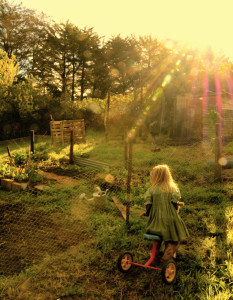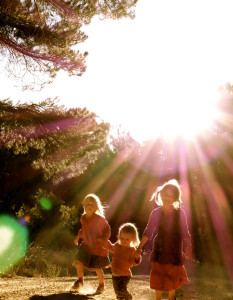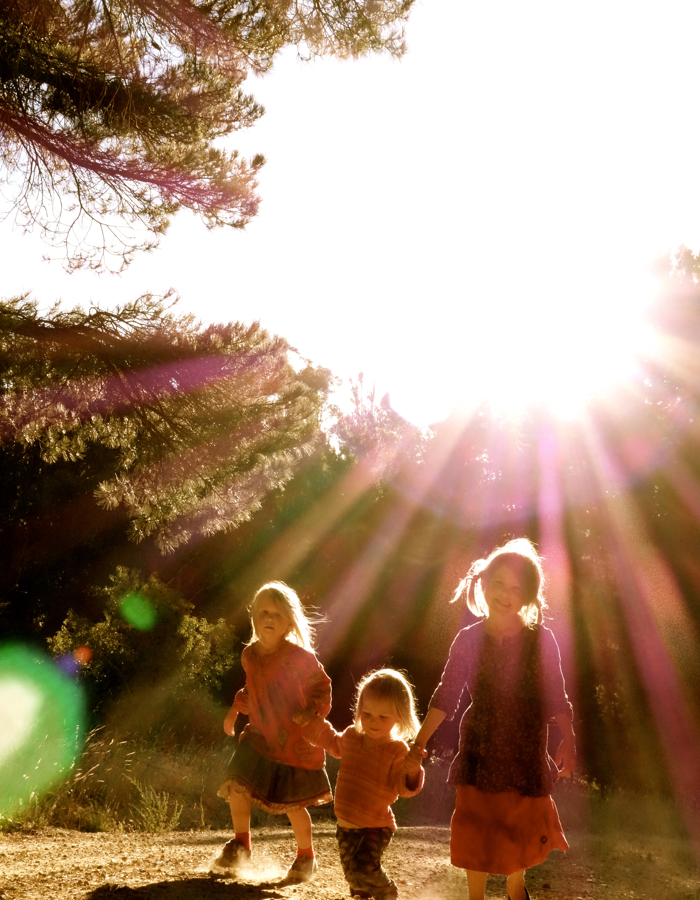 This, too, he had said as he considered our little ones running to and fro, and also, most certainly, the distant memory of his own brood growing up here. 
Yes. This place is made for children.
 The Good Climbing Tree and the Swing. The Forest, and the Pond that wasn't quite a dam… the wonder of deer and of kangaroos. The noisy night lives of koalas. The sagas of rabbits and foxes. Friends in the form of frogs and bugs and moths. And so many birds! 
Everything we need is here. Love, water, shelter and food. Time has no need here, we are living by the sun, the stars and the moon.
Here we fell back in step with the seasons. Time was measured by blackberries and mushrooms, by which birds were coming and which had gone, by deer losing their baby coats, growing antlers, growing up, by the blooming and fading of flowers, by whether there was heat, and endless sunshine or cold, and icy rain…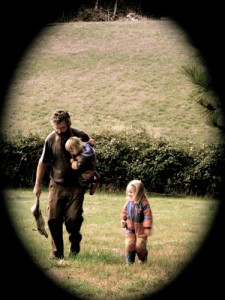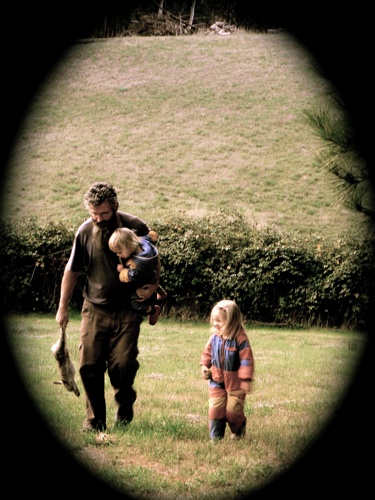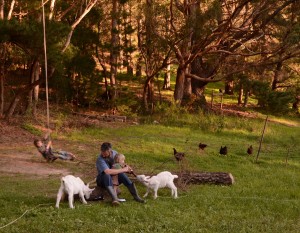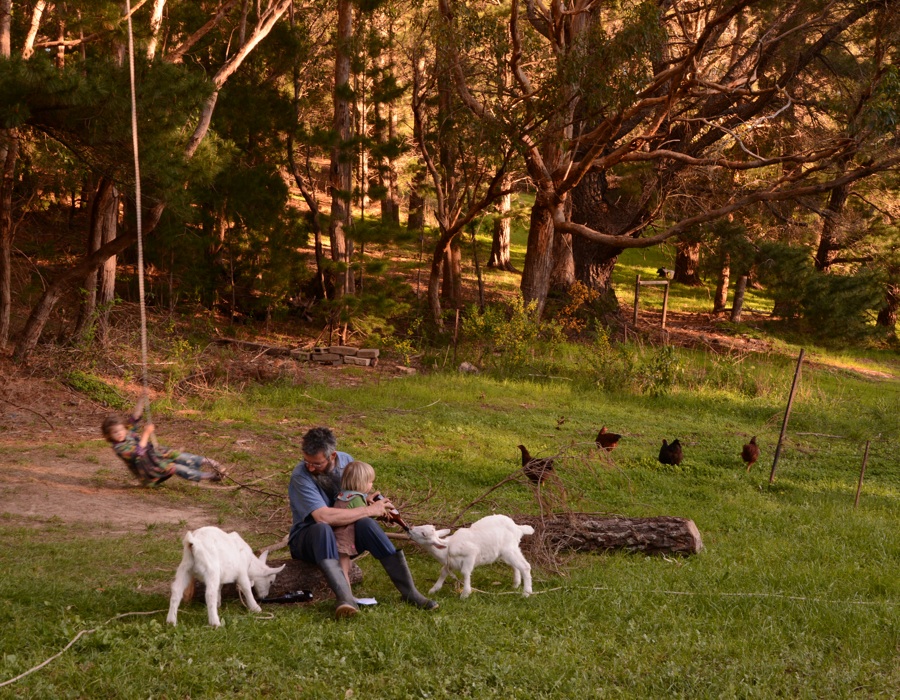 We were not farmers. We were wondering observers and possibility seekers. It was all a game, really. Playing house, and playing farm, and realising that to make something real, all you have to do is call it real and believe in it yourself. Can we really do this? We asked ourselves. And we dared to try. And we did do it. And it was glorious. 
And the place woke up to what it had been and what it could be again.  Love poured in to the old wounds, and like a scattering of seeds, like a benediction, ideas rained down upon us and became our dreams, and on waking, those dreams became plans, and then realities…
There were unforgettable sparkling nights of music and firelight. There were days where children ran wild in the forest and their grown ups sat around the fire, capturing something of what could be, if life were a whole lot simpler.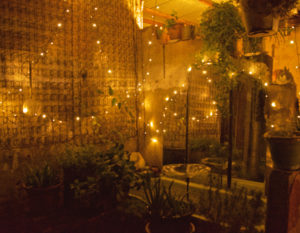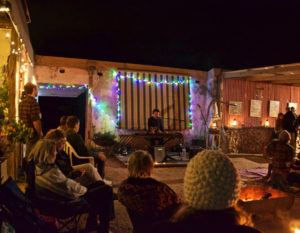 And something swelled inside us, too.  And we grew.  And we burst out of the old shell. And it was painful and wonderful and terrible. And there were tears. And all of it was inextricably woven into this place. And we allowed it to happen. More than that, we created it. 
Allow yourself to love a place and the leaving of it will tear something from you. Grow in to a place, and the leaving of it will make an empty space, a scar on the landscape of your heart.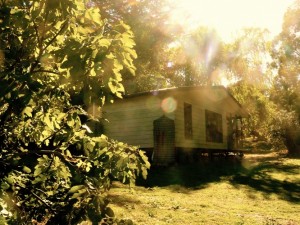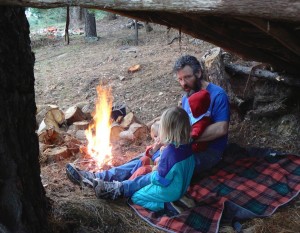 When we first came to this broken place and saw what could be, there was no looking away. We brought small hopeful offerings like the tiniest of seeds. We planted them with love, and wonder. We watered them with tears and longing. And Wildflowers grew.
There has always been so much broken glass here. Like memories of dreams that had been all dashed to pieces, this place has always been scarred by imperfection. Broken, and yet beautiful. So beautiful. 
All places have their angel. The angel here sings joy that a place so forgotten has become so beloved. There is beauty for ashes. There is grace. And the angel guides the steps of laughing, trusting children, and the glass has hurt no one, ever.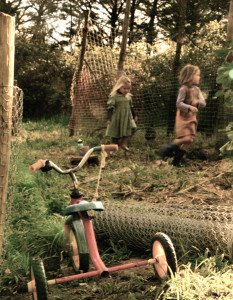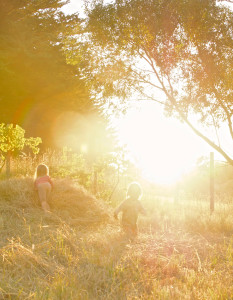 There must have been so much of it, buried so deep, slowly working its way toward the light. Even now, all these years later you can still find it, both in the valley and in the forest, especially after the rain.
 I used to hate the glass, but it's funny how love, and the stories we make can transform just about anything. Now even the glass here sparkles on that forest track, like diamonds in the morning sunlight.
This was never going to be an easy goodbye. 
Yet something has begun here. I am not even really sure what. But I do know that it will continue to unfold both here and wherever we go after this. Some things we will take with us. Some we will leave behind.
It is all as it should be.