Crossing the Daintree River propelled  us into the most interesting, challenging and exciting phase of our trip north.  It was also the gateway to the 'real' wet tropics, and a leaving behind of busy civilisation.  We took the ferry across and headed to Noah Beach just south of Cape Tribulation.  Stunning!  The greyish white sand on a long curving beach with overhanging palm trees was everything that we had imagined.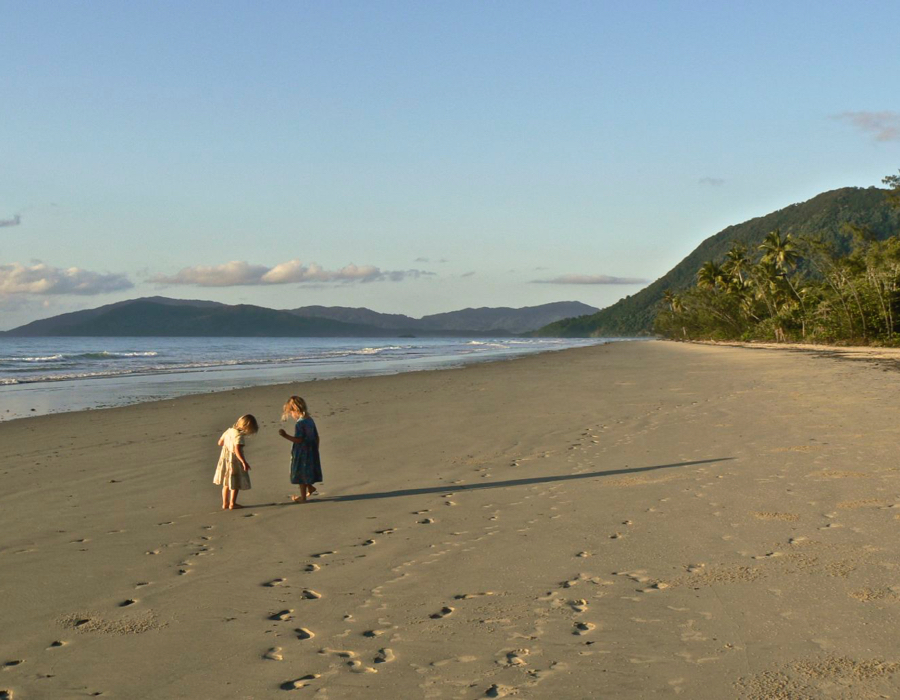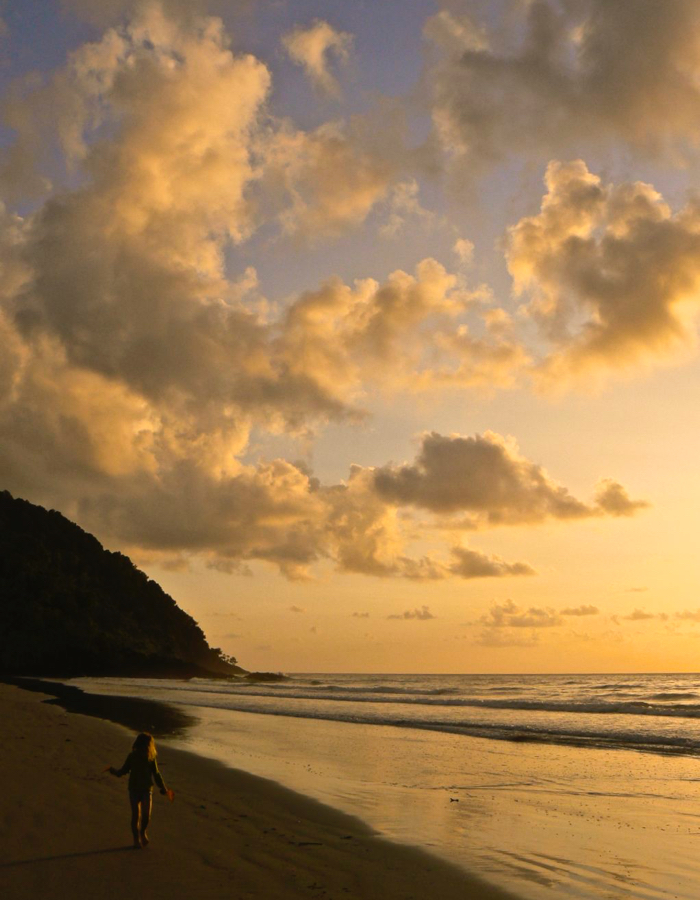 What was surprising was how quiet the beach was…so few people!  Some mornings and evenings we had that little piece of paradise to ourselves.  We camped the four days on a National Parks campsite right next to the beach. That, too, was quiet with only 18 camp sites available.  Queensland National Parks requires that you book campsites in advance of your arrival which would prove tricky for us throughout our Queensland sojourn as we rarely knew when we would arrive at a place, how long we would stay or whether or not we would have enough credit on our phone to make the booking. (often you would be put on hold and that chewed up the credit).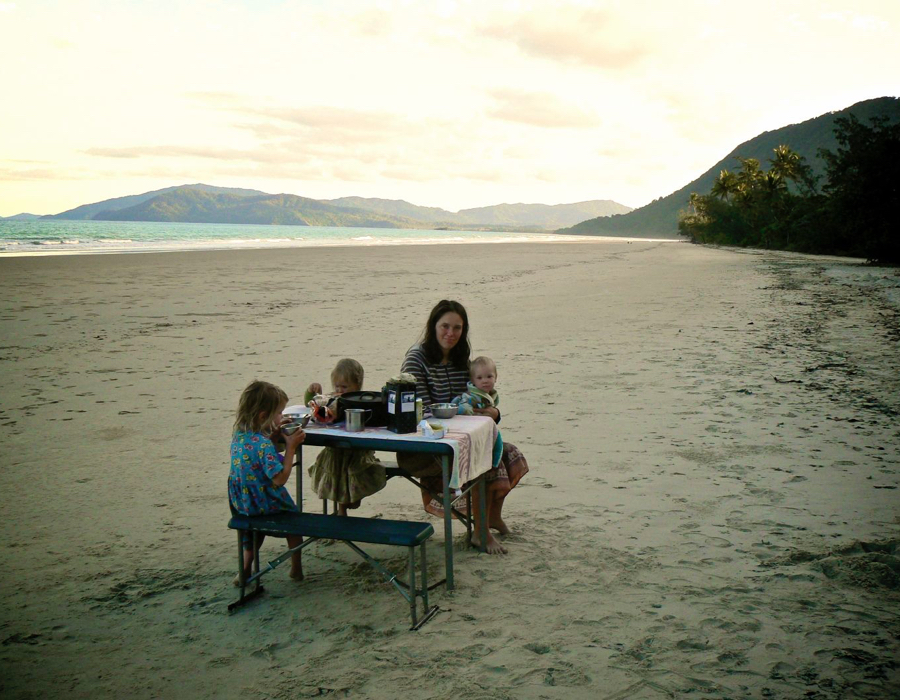 Dinner and breakfast on the beach, balmy days and developing suntans made the cold southern winter seem a lifetime away.  Only one thing niggled…crocodiles owned the water along the beachfront and, while they would be happy for you to swim in their territory their pleasure in seeing you in the water would be for all the wrong reasons!  It was from now on that we would see a plethora of signs warning of crocodiles being spotted in a given area. Also advice on what not to do….'crocodiles watch your movements and if you go down to the water every day make sure you go at different times so they don't see the pattern in your habits'…. and tales ….'someone leaned over to fill their billy can at the creek and, snap! They were dragged under' Fair enough….be real careful!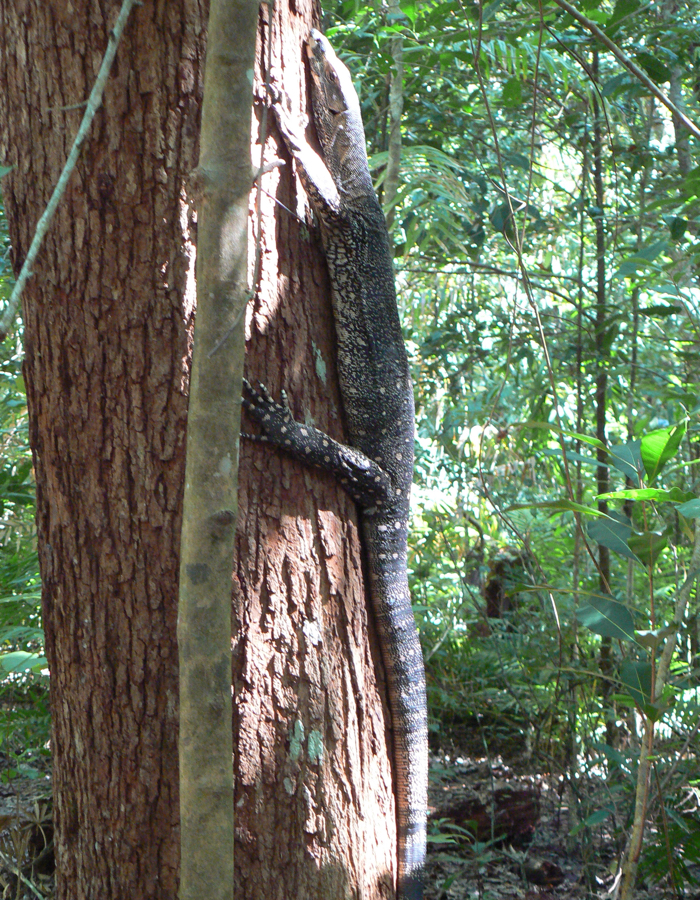 The campsite at Noah Beach was home to very big monitor lizards who stalked the camp each morning looking for food scraps.  One morning as I was washing the dishes I left a pot on the ground with a gingham tea towel draped half in and half out of the pot.  I went to get something out of the Toyota.  When I came back I saw a monitor lizard about a metre and a half long slowly and quietly advancing on the tea towel as if it were stalking it.  I stood perfectly still and watched. It got closer and closer to the tea towel.  Suddenly it sprinted and grabbed the tea towel by the 'neck' shook it violently and then dragged it off into the undergrowth.  I chased it but it did not let go of its 'prey'.  It wouldn't have taken it long to work out it had caught a tea towel and not another lizard!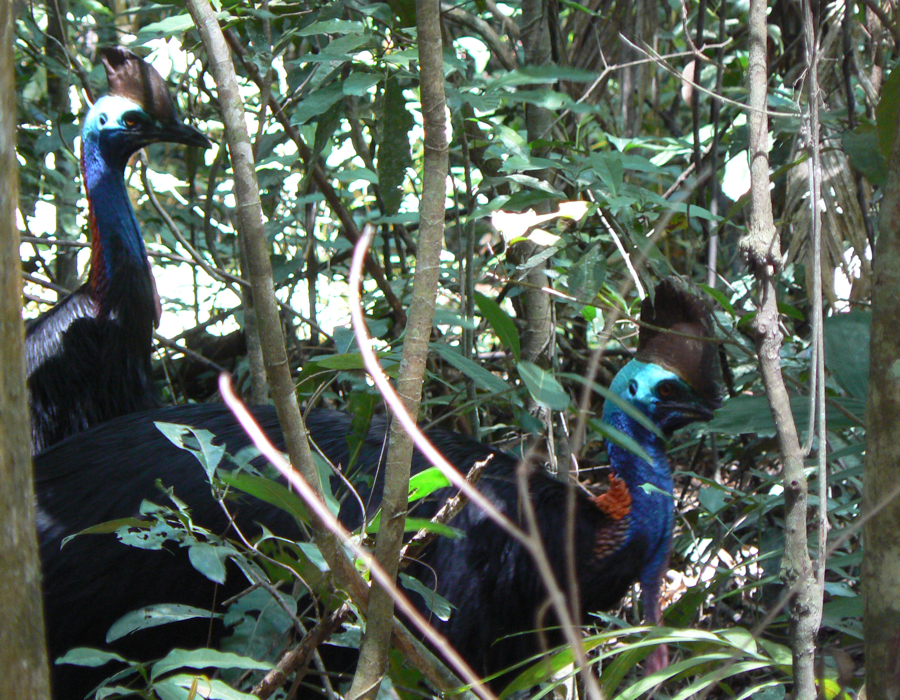 We took a drive into Cape Tribulation which provides beautiful views back over the rainforest and coastline. The 'town' itself was (to us at least)  just another tourist/backpacker haven but a place to get a coffee, a beer and if we fancied, a bar of chocolate.  It had one redeeming feature-  a beautiful waterhole near by, upstream of where crocs could go (apparently they cannot, or don't like to go up waterfalls) We had a glorious time swimming (by ourselves) and gathering blue quandongs.  On the way there we also spotted a family of Cassowaries moving through the forest on the side of the road.  We stopped and they stopped and we watched each other with intense curiosity.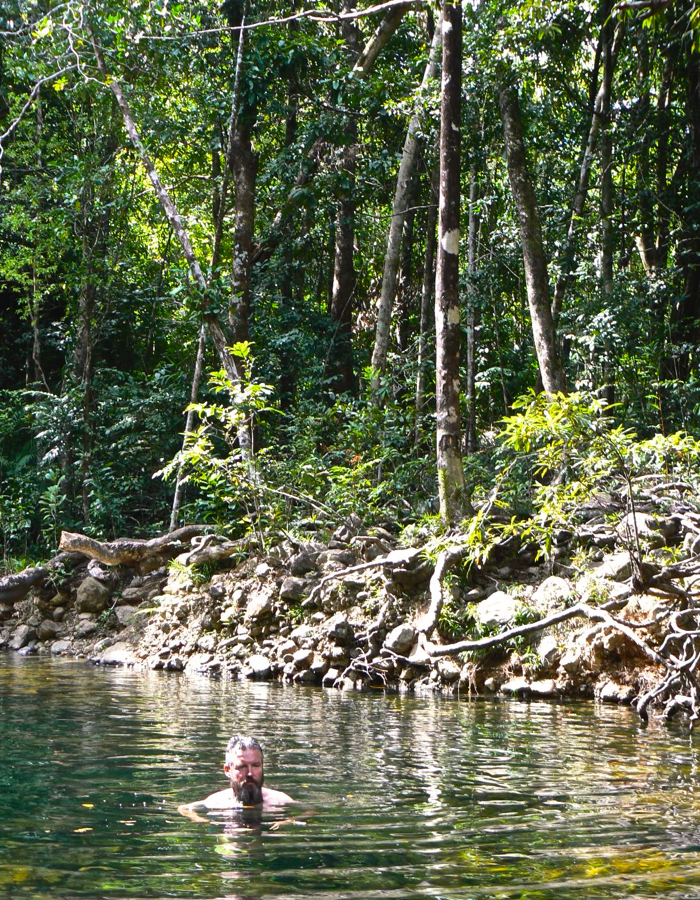 Now, well seasoned travellers, the Bloomfield Track was too be our next 'challenge'!