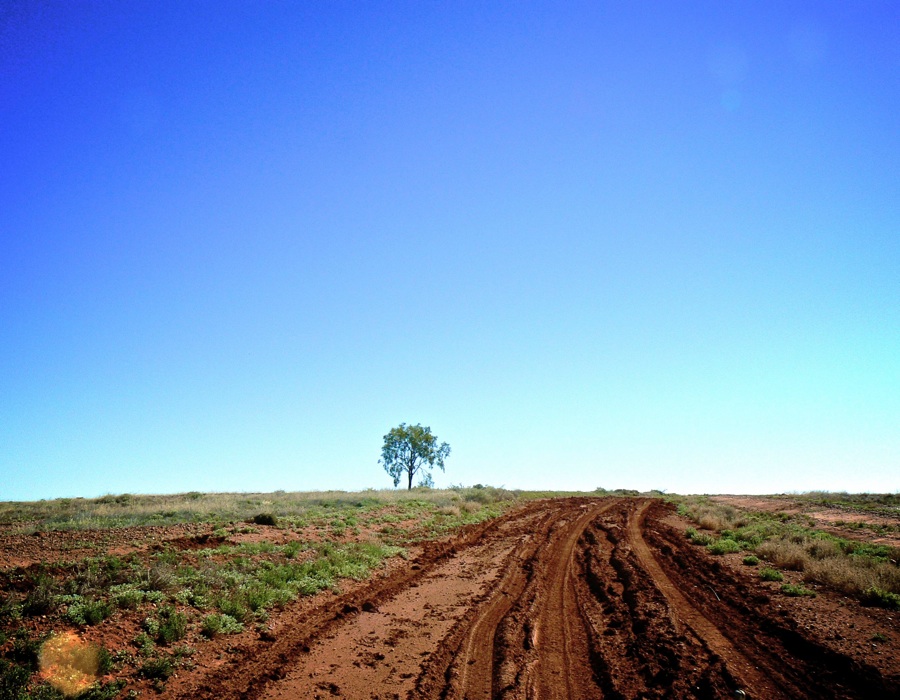 The road to Mt Hopeless from Arkaroola was the first real bush track we had ventured upon, a distance of 75 km.  When we read on the sign that the road was open after recent rains we assumed it meant the road was dry.  Wrong!  Far from being dry the flat open plains which the road traversed were still sodden and the track waterlogged in large sections.  This was our first four wheel drive challenge and we executed it beautifully.  This was also the first indication of what a wonderful vehicle we had purchased and what it was capable of in difficult conditions.
The Landcruiser grumbled and rumbled as it drove along, a very distinctive sound. We have no idea as to why it made that sound, we could only assume that it was a non standard exhaust system.  We had bought the car a couple of weeks before we  started on the road trip and so we had not yet 'become one' with our vehicle.  The children decided to call the Landcruiser 'Mr Grumbly' and as we came to our first stretch of oozing mud Miriam yelled, "Can Mr Grumbly get through this?"  We replied, "Of course he can, thats what he's made for!" Actually,  I wasn't so sure, not having had a lot of experience in four wheel driving.  Still… into low four, and we plunged on in to the miry mess stretching out before us….no worries….we slithered our way through, much to our relief and delight. 
As we drove on across the relatively featureless landscape flocks of emus crossed the road in front of us, or loped along beside us.  A feral cat was startled by our coming and ran off to hide, its orange and grey fur making it easy to camouflage itself in the scraggy vegetation near the road.  We had left Arkaroola mid afternoon and as the sun dipped lower in the sky the shadow of the vehicle got longer and longer. We thought it was such fun to see it driving along beside us.  Except for 2 mud strewn vehicles coming in the opposite direction near Arkaroola we had passed no one. When we decided to camp late that evening we were alone in the middle of nowhere, Liadhan and I and our 3 little children along with all our possessions jammed into and on top of our rig….it was a nice feeling.
Unloading and setting up camp was hard work surpassed only by packing up and leaving.  We found a clearing near to, but out of sight of the track.  On this occasion we did not need to erect the tent so the sequence was: light a fire to cheer and warm us; set up the stove and get some food on the go; roll out the swags so we had a cosy place to nestle into; eat; get the children into pyjamas, then all pile into the swags which we laid side by side.  This sequence would be repeated many times in the coming months.  
It was still very cold in the evening so we got down deep into the swags, close to each other, all very snug, and fell asleep.
 Sometime in the early morning, not long before sunrise Liadhan shoved me and said 'theres a dingo in the camp!' I replied 'its' ok it will go away… give it some meat', 
'Shoot it! It's right at the end of the swag!''
'Go to sleep'
'Richard, its right next to us!'
It was then that I heard the low menacing growl of the dingo right next to the head of the swag.  The hairs on the back of my neck rose and instinctively I sat bolt upright and yelled 'gowarn! gowarn'!  The thing scurried off into the darkness.  I had not even seen it.
The morning came without any further incident.  As the sun was rising we could hear the dingo howling not far from camp. It was not to be the last encounter we would have with these canines of the bush.
Next day after successfully navigating several more treacherous boggy sections of track we arrived at Mount Hopeless and the the junction of the Strzlecki Track.  Like a badge of honour, our white Toyota was covered in mud- we had been initiated into the band of true adventurers!  
We were, however, the most poorly prepared adventurers,  equipped with only one spare tyre, a few spanners and screw drivers, and an assortment of nuts, bolts and screws. No GPS, no winch, no snorkel, no satellite phone, no emergency beacon.  Despite this, and our journey taking us through some pretty out there country, we survived!