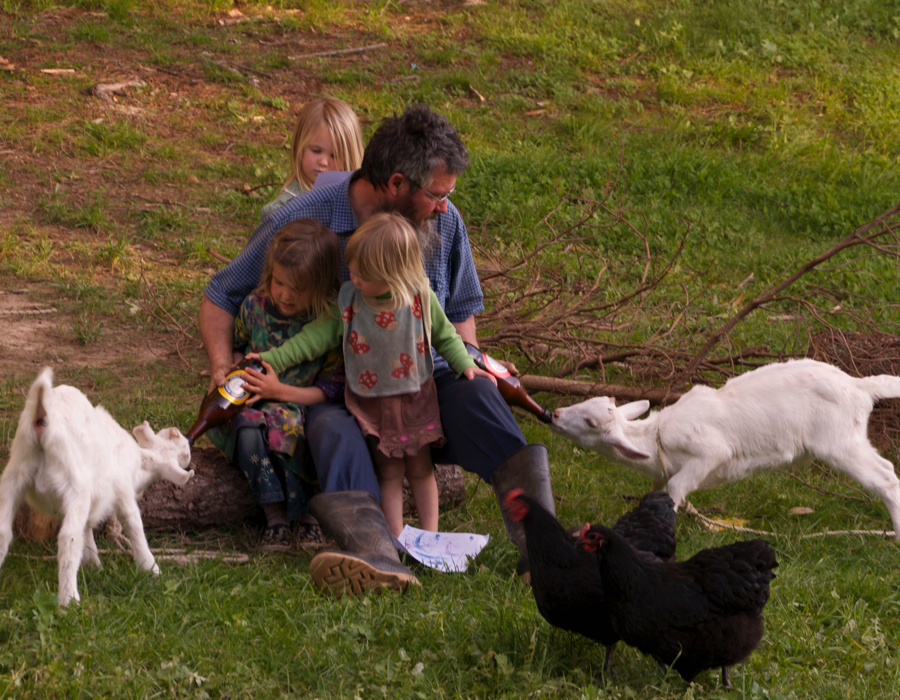 When we first moved to Wildflowers we anticipated staying only for a few months.  Liadhan was pregnant, we had just returned to Adelaide after an eight month road trip to the top of Cape York and back, our house was rented out and we needed somewhere to stay for a time to have the baby.  Our plan was to have the baby and then keep travelling.
That plan never eventuated.  We extended the lease for a further eighteen months after the baby was born.
I thought that if we were to be here for only eighteen months then I had best get cracking on being a 'farmer'.  So with great gusto and a whole lot of ignorance I constructed a chook yard from whatever I could find lying about the place:  besser blocks from the old homestead, old bits of timber and corrugated iron.  I cut down pine trees for posts and used shade cloth, an old tuna fishing net for an enclosure, and bird netting from Cheap as Chips to cover the enclosure over so that foxes or hawks could not get in over the top.  I made lovely nesting boxes out of pallet timber and sat back and admired my 'Fort Knox' chicken yard and coop. It isn't actually a work of art, but it is functional.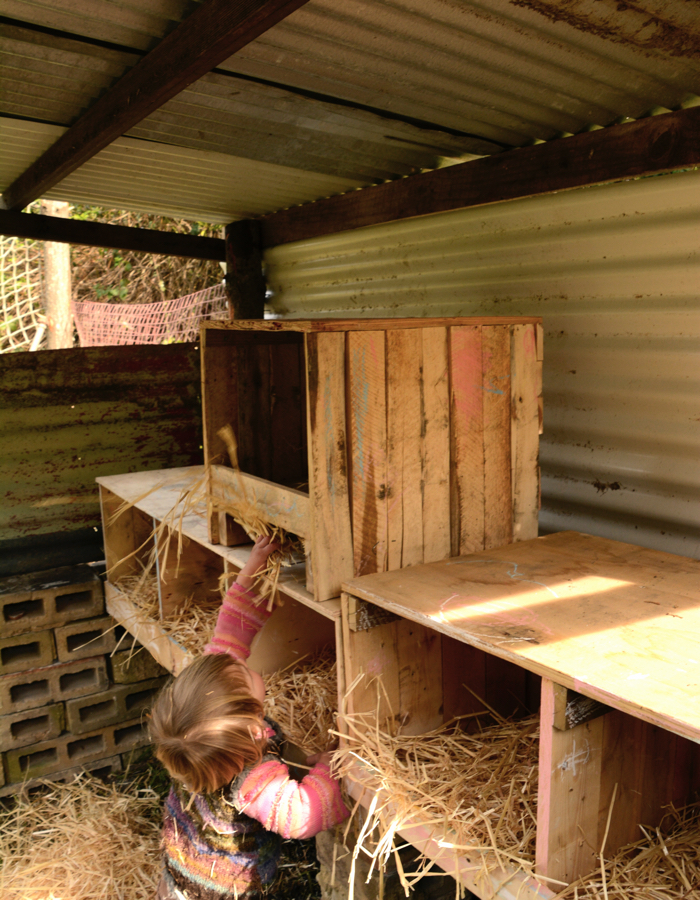 Finally, I went and bought an Australorp rooster and a few hens of the same breed. 
Some friends were giving away their ducks- a drake with two wives. They came with a house. The ducks were a bargain!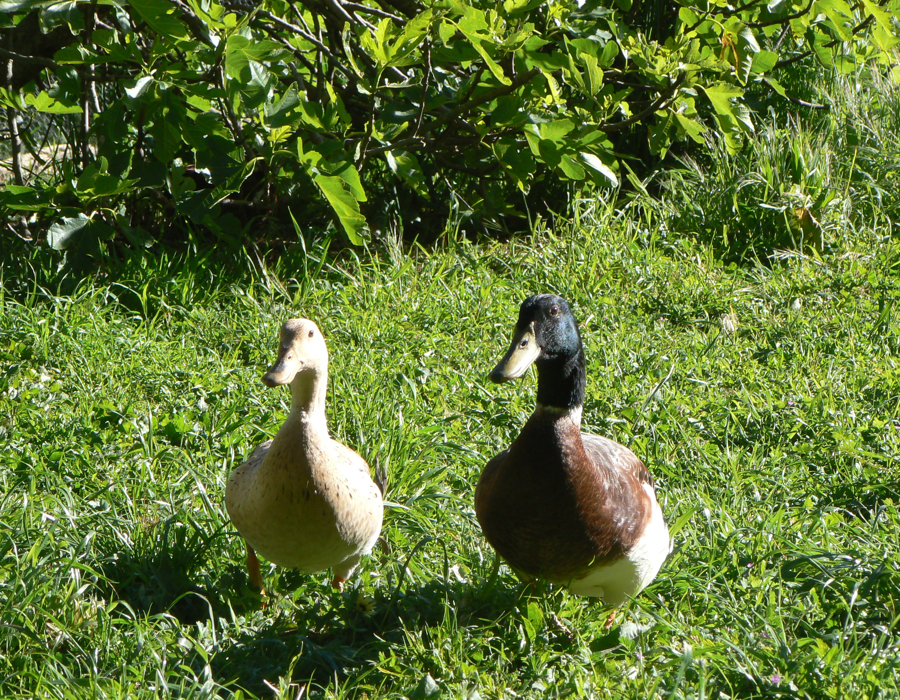 Every back-to-the-earth farmer needs some goats. So I bought two male kids from friends and bottle fed them.  The children loved it.  They were little and cute but once weaned they had to be contained otherwise they ran riot eating everything in sight and making themselves at home in the house. The only option, in the absence of any fencing, was to tether them.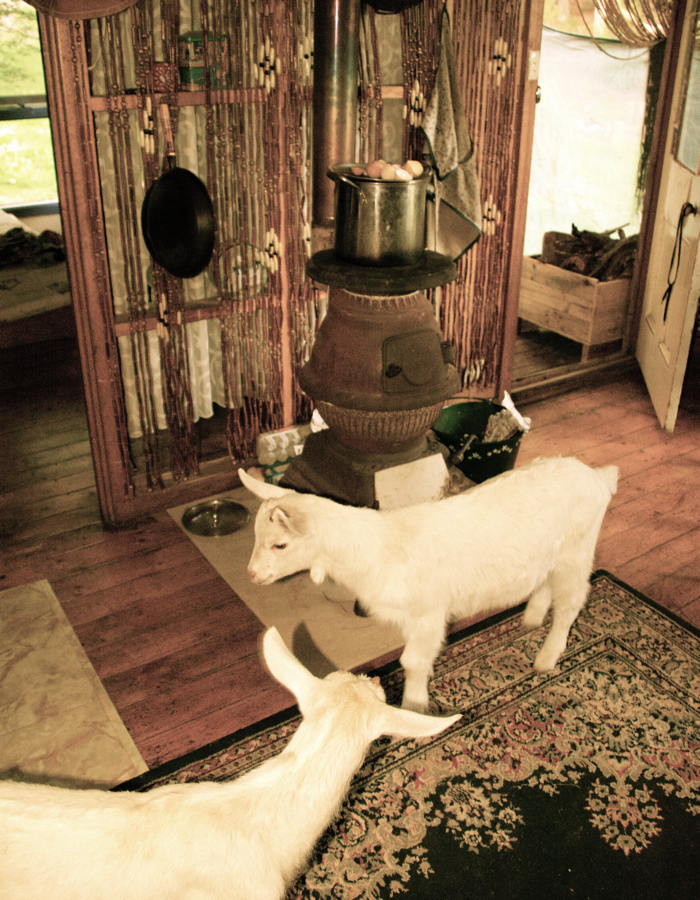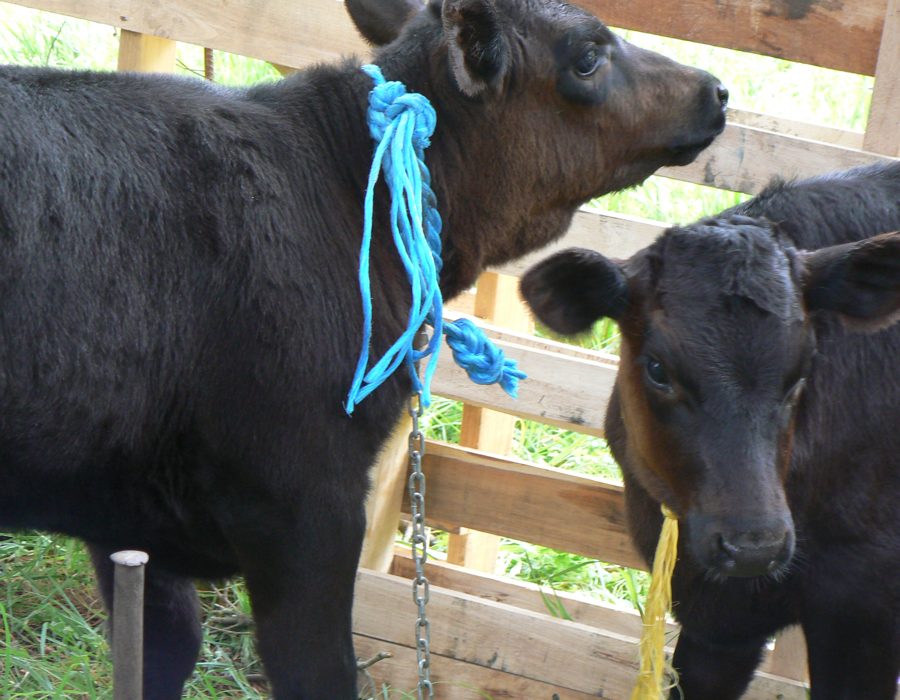 What sort of alternative lifestyler are you if you don't have a cow?  Just so happened that the guy at our local dairy had an eight week old calf for sale.  He told me that they don't like to be alone and just happened to have its sister for sale as well. They looked so small and cute so I took them both……
In the absence of any fencing I had to tether the calves.
Children love sheep, they are woolly and make lovely baaing noises.  They bring that final touch to any farm.  I bought two from my son's friend's father……In the absence of any fencing I had to tether the sheep.
We had a shared pig for several weeks, I built it a pen out of corrugated iron.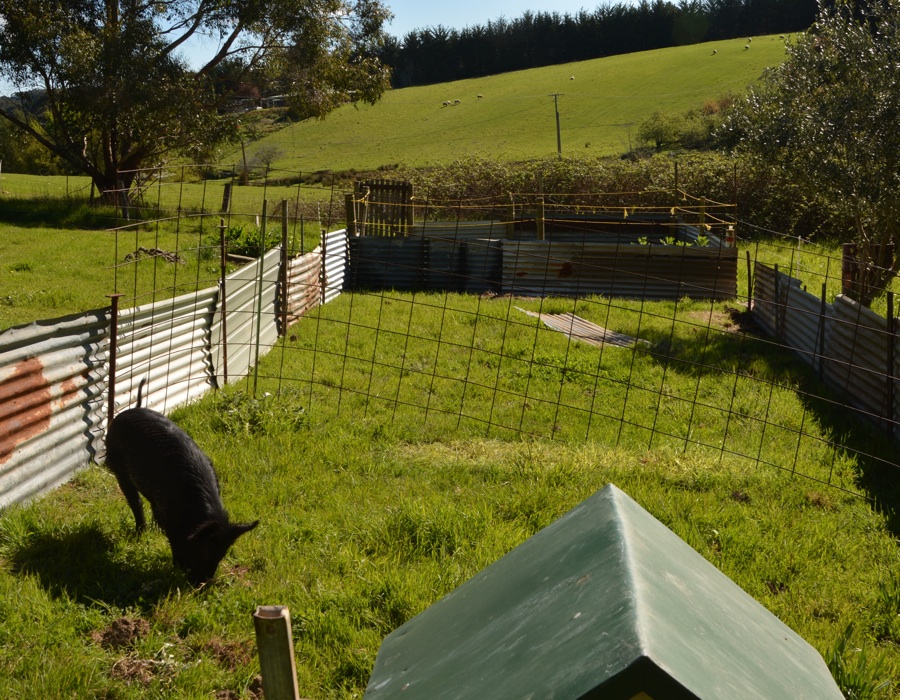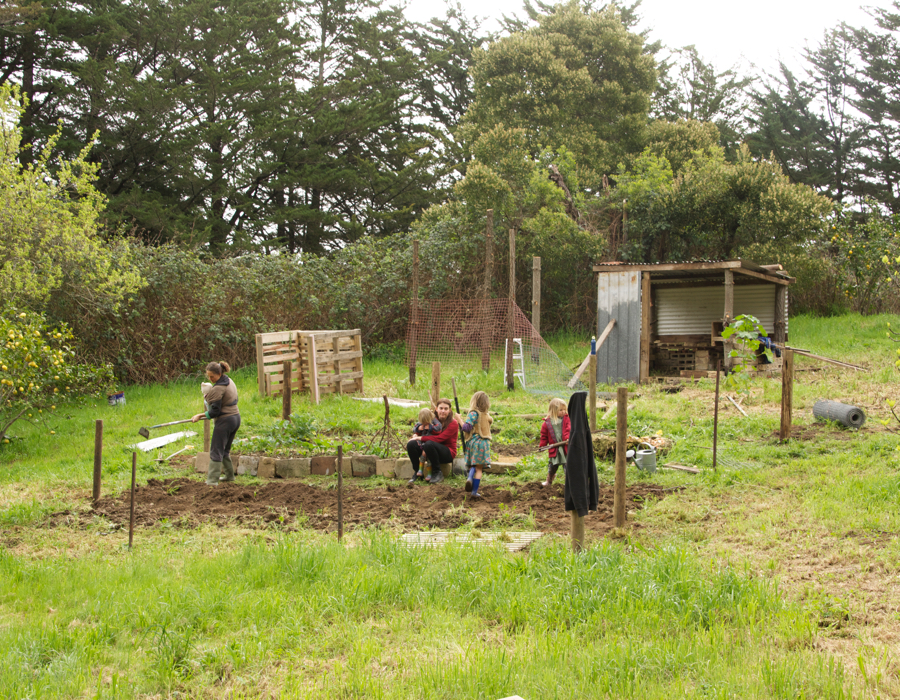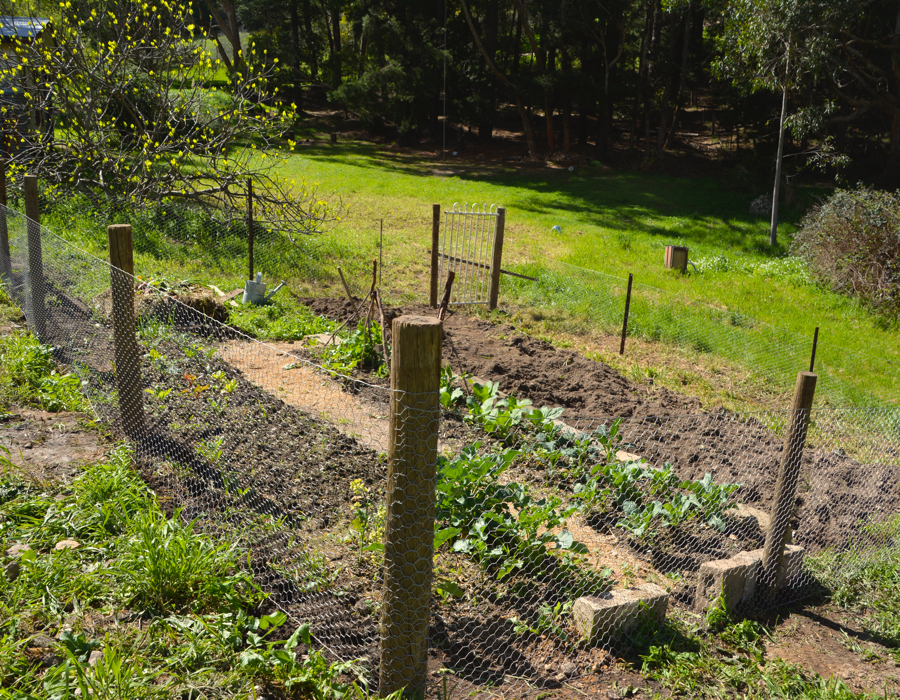 I constructed a terraced vegetable garden and had it planted out for our first spring and summer at Wildflowers. 
So… the farm was complete within about 12 months of setting foot on Wildflowers.  Cows mooing, chooks clucking, goats bleating, sheep baaing, ducks quacking and vegetables flourishing.
How have things panned out after the first flush of enthusiasm and excitement of creating the 'Good Life'?
Well, it was a lot of work having that number of tethered animals and having to move them every day. And having to cart water by bucket to them on the various parts of the property where they were grazing.  I must have covered many many kilometres on foot, often up hill, to get them to food and to bring them water.  I was getting very fit that's for sure.
The other noticeable thing was that the animals got bigger. The cows in particular became quite a handful to move on a tether. There's a lot of weight and muscle when they get to five months old!  And cows, I discovered, are eating machines and Wildflowers didn't have enough cleared pasture to satiate their appetite. 
The chooks harassed the children for their food when we ate outside in the fine weather.  They dropped heap loads of poo on the doorstep as they came looking for scraps dropped by some child who had decided they didn't want to finish the sandwich they had been given.
One of the sheep died a few days after we bought it, the other turned out to be a male when we had been told it was a female (??!) and, as time went on, it also became apparent that it was not the sort of sheep that shed its own wool (as we had been led to believe!)  All the ducks are gone  now, having fallen foul to foxes.  We had a few chicks from the chooks but we lost our rooster to scaly mite and several of the chooks (also to those pesky foxes!)
Our neighbours on either side of us allowed me to tether the cows on their properties but the time came when I could no longer hold them on the tethers.  So I invested in 400 metres of electric fencing with a portable solar power unit.  A great investment! I set up a small holding paddock and raceways to a neighbours paddock and one to a large area of cleared pasture on Wildflowers. Efficiency! No more moving  mad cows every day,  just moving of the electric fencing every few weeks.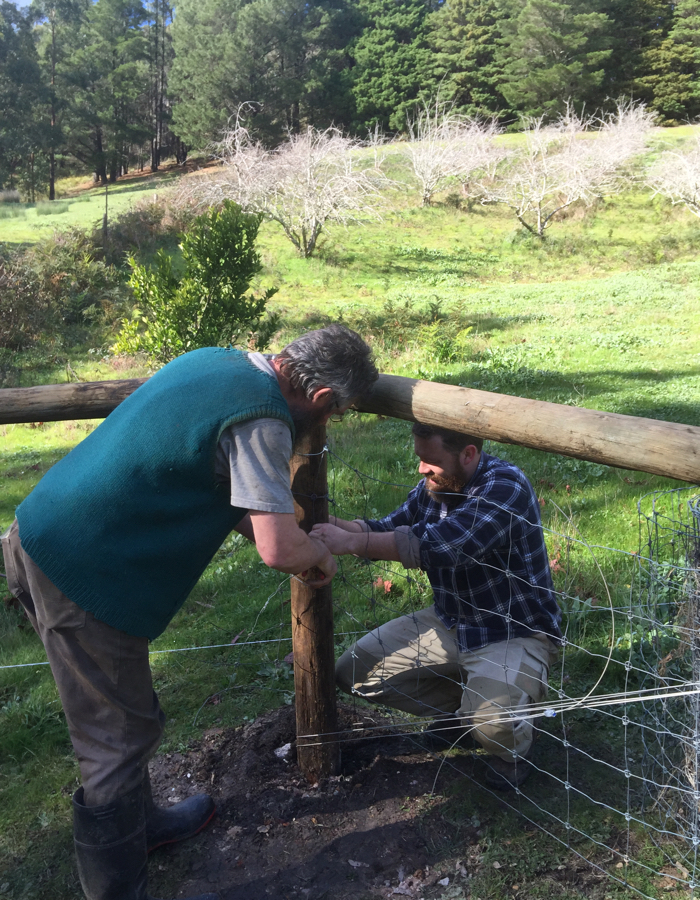 I recently built a proper fenced area for the goats with the help of a friend who guided me in the art of fencing.  No more moving goats every day- or fences every few weeks- no more carting water all over the place!
We have eaten one of the goats, eaten the sheep, eaten one of the cows, eaten several roosters, eaten our share of the shared pig and we are eating our way through the second cow.  This has lessened the work load and made me feel that all my hard work was worth it.
In February we will have been at Wildflowers for three years.   Do I have what it takes to be a farmer? Is the 'good life' for me? Have I left it too late in life to be 'alternative'? I have certainly enjoyed the experience thus far……..or……… is it time to take a different tack? …….
Hunting and gathering perhaps?