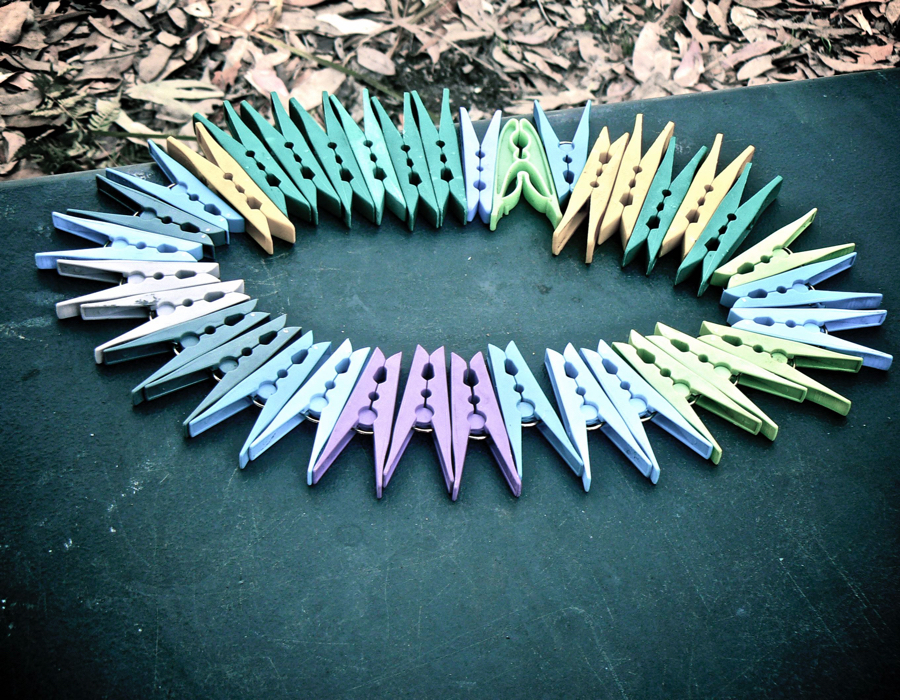 When we were on our road trip to Cape York, Miriam was four years old, and Hannah turned three during the trip. Being so tightly packed into the Toyota we had to be quite minimalist about everything, so the toys we packed were few- comfort toys (two dolls and a teddy bear), and practical toys (a bucket, rake, spade, and two small, old aluminium pie dishes). We anticipated (correctly) that on the whole nature would provide. And to a large extent we were right. Trees, rocks, sticks, flowers, dirt, mud, sand and shells were all put to good use, but over time, another habit emerged which has persisted into our settled life-  that of using anything which could be found, begged or borrowed to satisfy the creative urge.
Although they had always done this, the incidence now increased in direct proportion to the perceived lack of suitable raw materials! The children took anything they could find around our camp- utility items, clothing, even (and perhaps especially) discarded rubbish, boxes, pieces of rope and old containers. With these things they pursued their creative endeavours doggedly. Not even our ongoing admonishment at the state of the camp or the purloining of our belongings deterred them, and in the end we began to celebrate their creativity.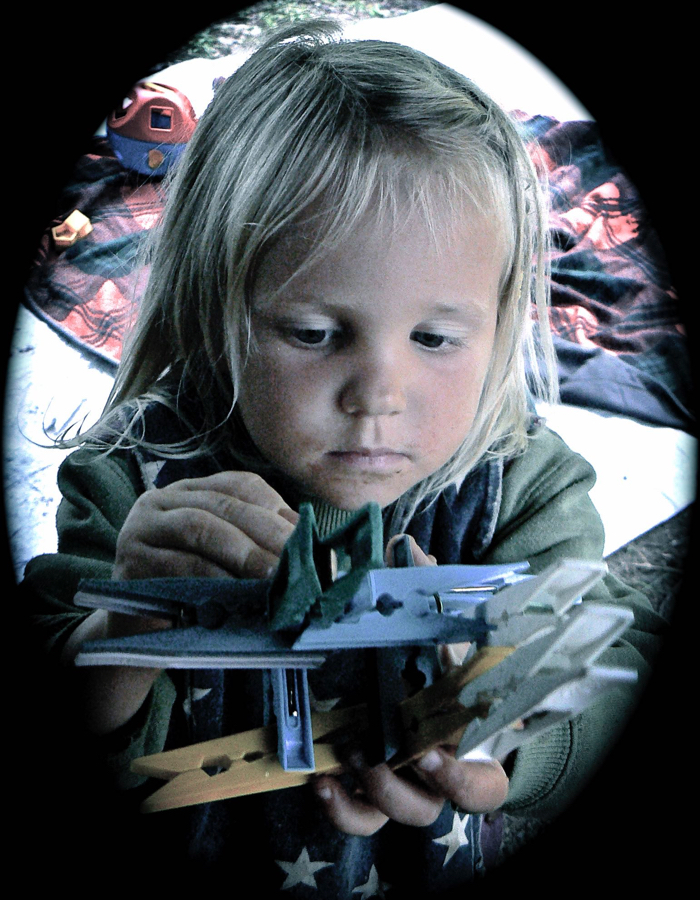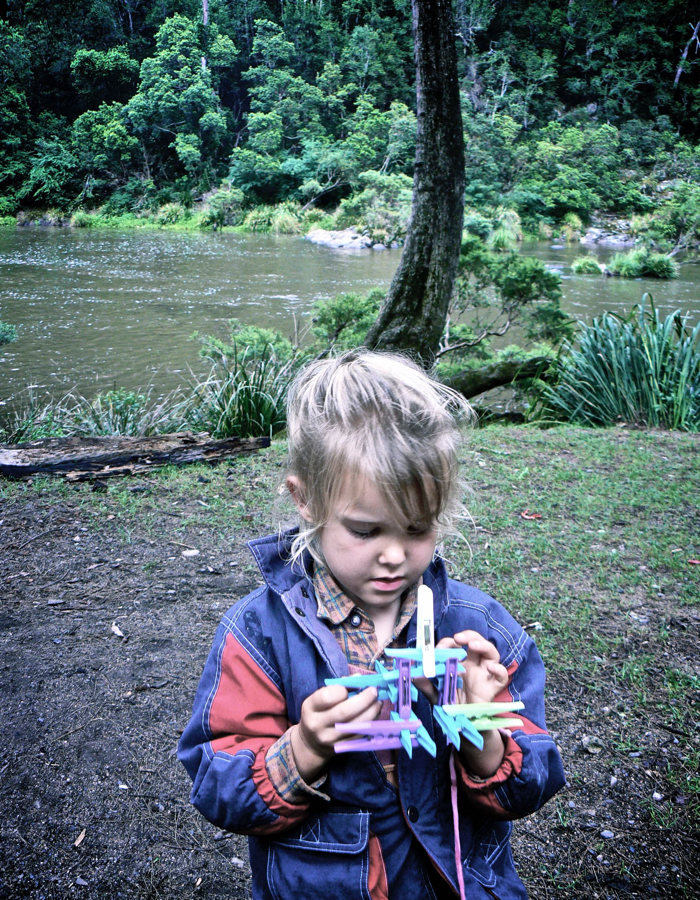 Simon Nicholson, a Cambridge architect who first proposed the "loose-parts"  theory describes this phenomena-
'In any environment, both the degree of inventiveness and creativity, and the possibility of discovery, are directly proportional to the number and kind of variables in it.'
I would add that the degree of inventiveness and creativity increases even further when we are forced to consider using things hitherto unnoticed when more convenient or conventional options were available to us!
It is almost two years now since we have been settled again. Halfway into our travels we bought a second-hand box of wooden blocks for the children to add to their resources. Now the block collection has grown, and along with a Brio train set, handed down from older siblings, the blocks are a focal point for indoor play. Our collections of dress ups and Schleich animals have also grown to fill the available space! Toys of this sort can also serve as loose-parts in children's play, as they can be put to many different uses (although as we have seen, creative children will often put anything to whatever use serves their purpose, their imagination, rather than the object, dictating its use!)  The children love their toys, but they have not lost their ability to improvise, and out-of-doors especially, the evidence of the creative drive is everywhere for all to marvel at!  A natural or unstructured environment is full of loose-parts, many things with open-ended uses, limited only by our imaginations.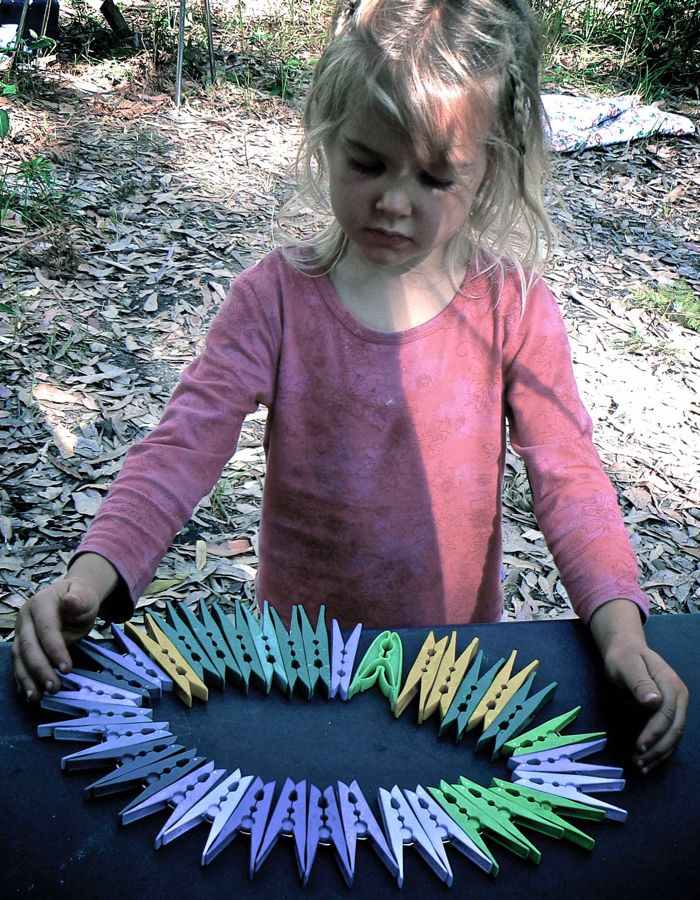 When we first set out on our adventures, we didn't realise to what extent our way of life would come to impact on our ingenuity and our ability to improvise in any given situation. Even since settling here at Wildflowers, our life has been one of ongoing adaption and improvisation, as we have used whatever resources we have found to create things to meet our basic needs, and to make this a place of beauty.
For us as adults it has been new and different. Our ingenuity had been fairly latent during those years of comfortable suburban living. For our children, however, this outside-the-square thinking is all they will have ever known. It is an unexpected gift we feel blessed to have been given. 
 And we are looking forward to all the creative endeavours the future holds!